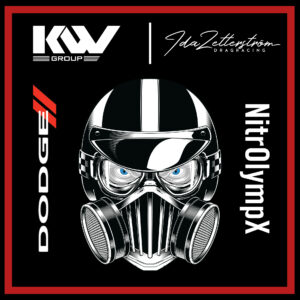 Thrills, Speed, and Adrenaline: KW Auto Presents Dodge LAST CALL Models at Hockenheimring
KWA Team, 18th August, 2023
This year's NitrOlympX, the hottest drag racing event at the Hockenheimring, will take place again on August 26th & 27th.
Dodge brand ambassador and Top Fuel Dragracer Ida Zetterström presents with KW Parts & KW Auto Last Call models at the Dodge booth
18th August 2023 - It's that time again! The most exhilarating motorsport event of the year is just around the corner: The Nitrolympx Race at Hockenheimring on August 26th. Among the remarkable participants, KW Auto, the leading importer of Dodge vehicles in Europe, will be present. In collaboration with the talented drag racing icon Ida Zetterström, KW Auto will showcase a spectacular booth that perfectly captures the excitement and passion of the racing world.
Combining unparalleled performance and aesthetics, the Dodge LAST CALL models will captivate the attention of visitors. This exceptional vehicle embodies the essence of speed and elegance that Dodge has been synonymous with. Attendees will have the exclusive opportunity to experience these feats of engineering up close and personal, feeling the unique connection between human and machine.
KW Auto's brand ambassador, Ida Zetterström, will be on-site to provide insights into her impressive drag racing career. Her experience and dedication make her the perfect bridge between the breathtaking realm of racing and the fascinating Dodge vehicles.
Beyond the chance to admire the Dodge LAST CALL models and get swept up by their commanding presence on the racetrack, visitors to the KW Auto booth can expect an unforgettable experience. Historical details, exclusive glimpses into the technology behind the vehicles, and the opportunity to connect with like-minded enthusiasts and industry experts make this booth a must-visit for all motorsport aficionados.
KW Auto cordially invites you to attend the Nitrolympx Race at Hockenheimring on August 26th and witness the allure of speed, power, and elegance firsthand. Be a part of an unforgettable event that redefines the limits of motorsport and celebrates the synergy between human and machine.
Follow KWA and the company's news and videos at:
Facebook: - facebook.com/KlintbergWayAuto/
Instagram: - dodgeandram_kwa
Youtube: https://www.youtube.com/kwauto
LinkedIn: - https://www.linkedin.com/company/kw-auto-dodge-ram/
For media inquiries, please contact:
Raissa Trettwer raissa.trettwer@kwauto.com
KW Auto Marketing & PR Coordinator