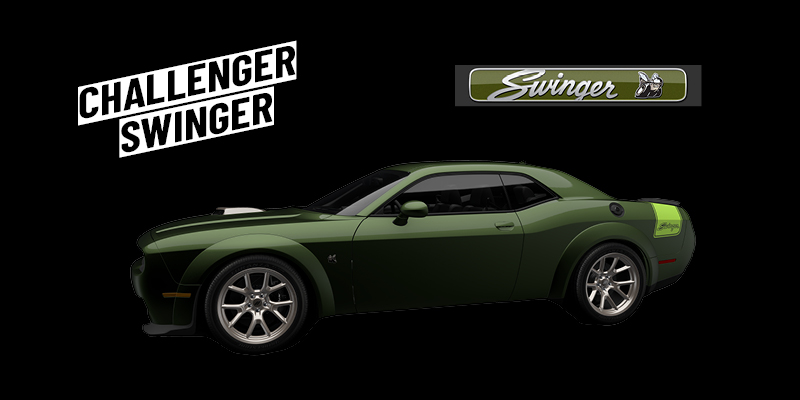 The Dodge Brand paved the path for American muscle in the 70s with its high-performance Swinger models. With this in mind and as an ode to these beasts, the LAST CALL Challenger R/T Scat Pack Widebody will have an available retro-themed Swinger Special Edition Appearance Package.
Available in Sublime Green and F8 Green.
INTERIORS
Step inside the Challenger Swinger and experience a world of refined comfort and cutting-edge technology. From premium materials to advanced driver-assistance features, every detail has been meticulously crafted to enhance your driving experience.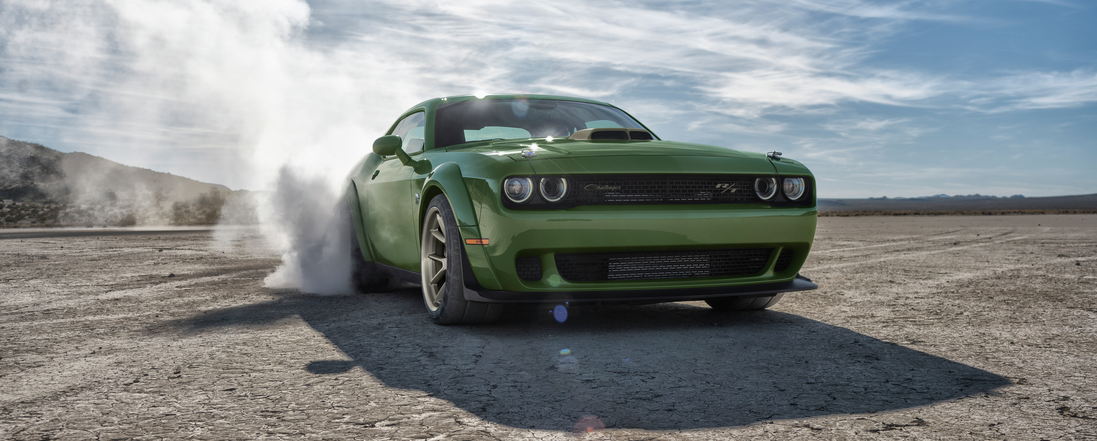 Join the Legacy
The original Dodge Dart Swinger 1970 was a member of the Dodge "Scat Pack" club, packing formidable horsepower into a compact package, and included "groovy" options, such as green-on-green interior/exterior color combinations, gold color accents and wood panel interior touches.
The Dodge Challenger Scat Pack Swinger modern-day special-edition models reach back to that past for inspiration, delivering a throwback exterior and interior appearance.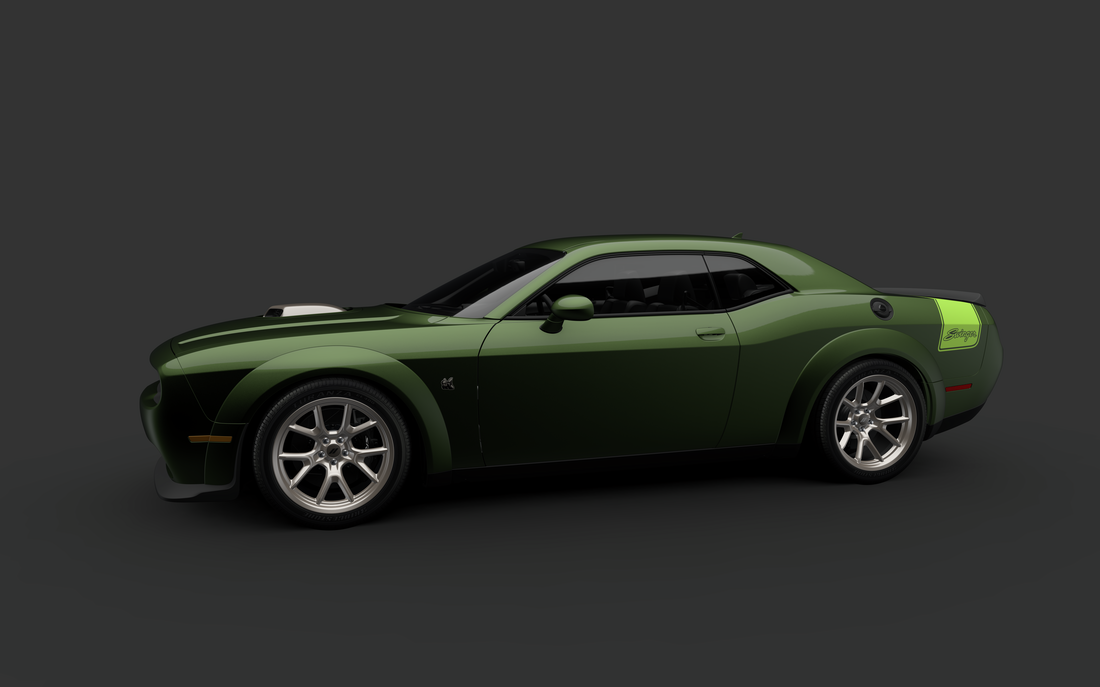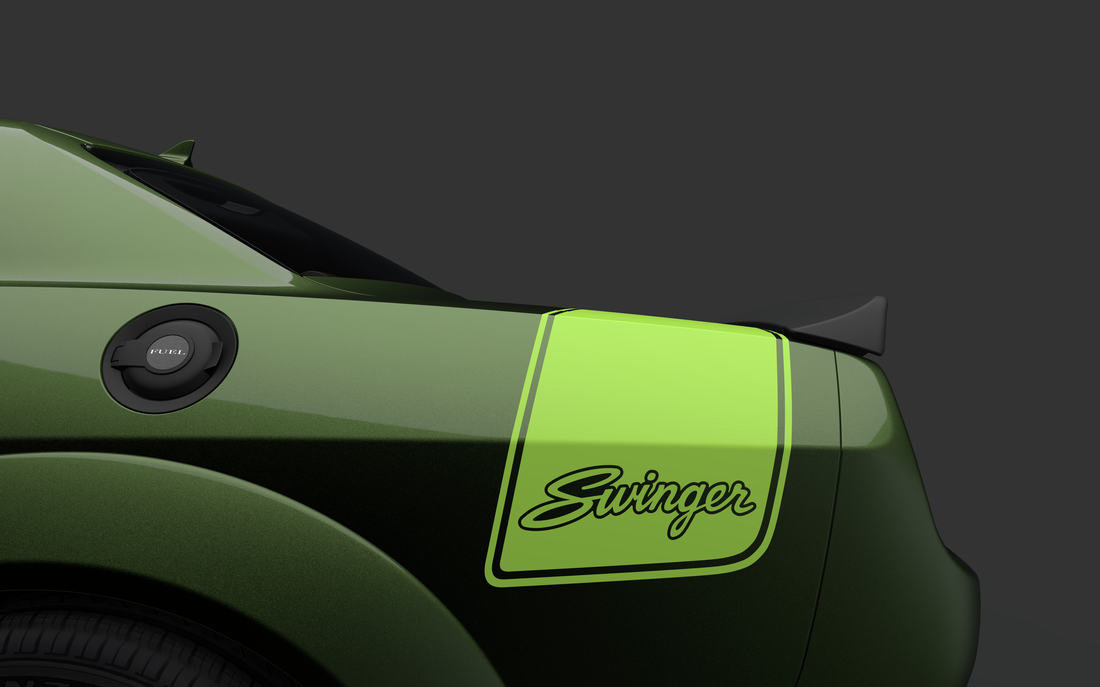 Dedicate Swinger sticker on the tail.
Starting with the legendary 6.4L V8 HEMI engine with 485 hp, the Plus Group, Technology Group, 18 Harman Kardon speakers and Shaker Package content, the modern Swinger achieves its retro flair through the following features:
Gold School Challenger grille badge
Gold School R/T Widebody grille badge
Gold School painted Shaker intake
Gold School Scat Pack + Bee spoiler badge
Gold School Bee fender badges
Retro Swinger rear fender graphics
20-by-11-inch Gold School wheels
Black six-piston Brembo brakes
Mod Grain wood-like aluminum interior bezel textures
Nappa/Alcantara seats with green stitching and green Dodge Rhombi logo
Green Swinger interior instrument panel badge
Green interior accent stitching on console and doors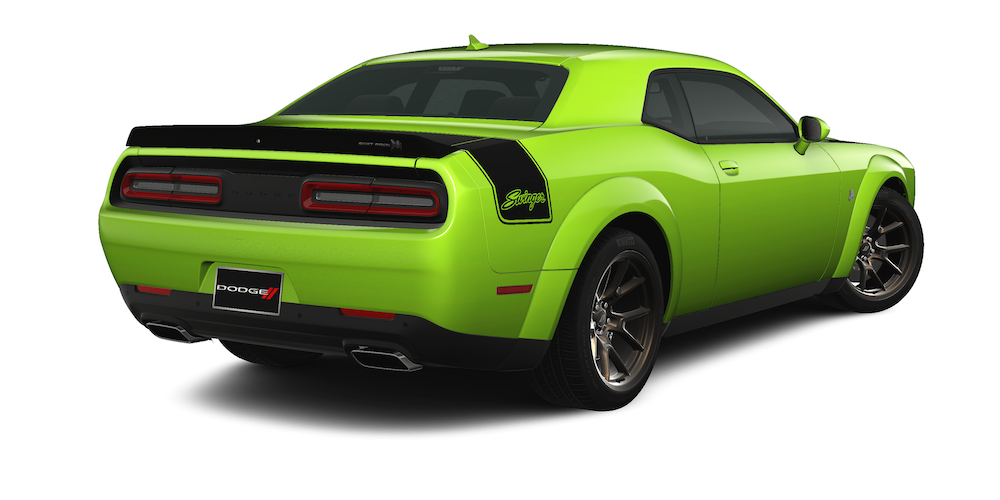 Available also in Sublime Green [PFB], one of the classic Dodge Color.
Only 1,000 Dodge Charger R/T Scat Pack Swinger will be produced Worldwide, only as Widebody models. Those seeking to recreate a classic green-on-green Swinger look can choose from F8 Green and Sublime Green exterior color options.
Paying homage to one of the greatest legacies Dodge Muscle has ever created, special edition Dodge Challenger builds will come with an aluminum 'Last Call' plaque that showcases the vehicle's silhouette, where it was built and a stamp to pay tribute to the final year of this legendary muscle car.
This year, the last DODGE Challenger and Charger V8 are rolling off the production line at the U.S. factory. In other words this is your final chance to own one of these iconic vehicles, a classic of the future. Get your LAST CALL Challenger and Charger now!
Get behind the wheel of the Challenger Swinger and feel the rush of pure excitement. With advanced performance technologies, such as launch control and adaptive suspension, this beast offers unmatched handling and control, allowing you to conquer every twist and turn with confidence.