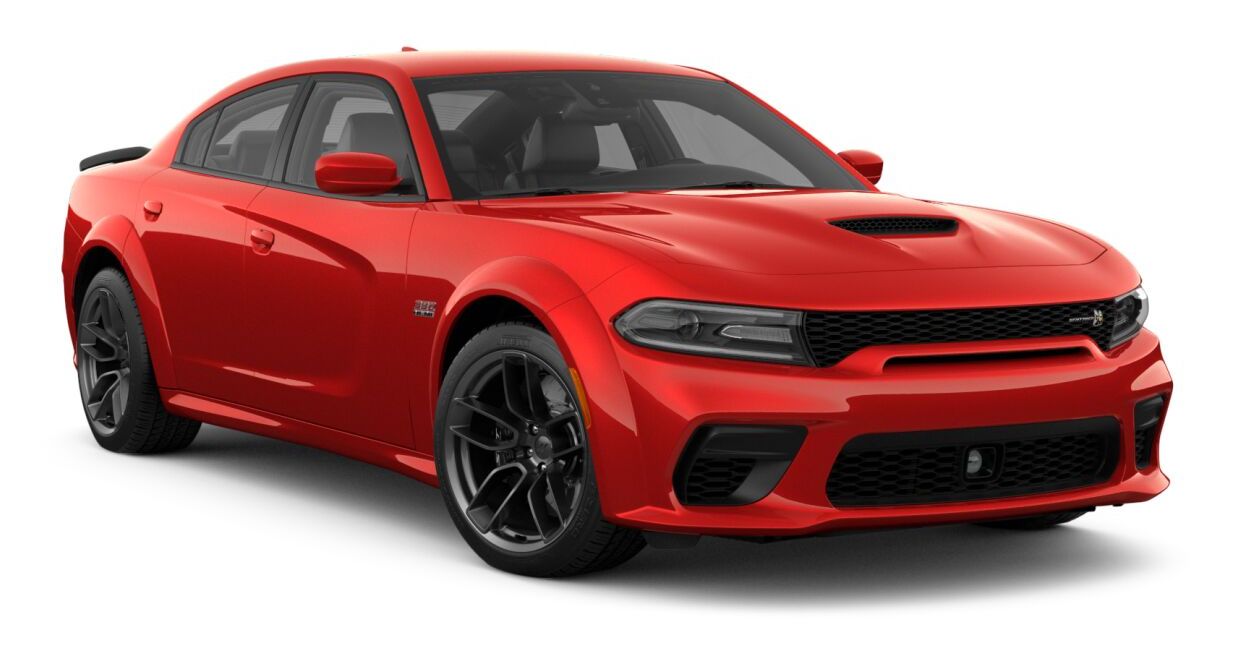 Charger Scat Pack
V8 Engine 6.4L - 485 HP
Charger Scat Pack Hemi Orange
V8 Engine 6.4L - 485 HP
Charger Hellcat
V8 Engine 6.2L - 717 HP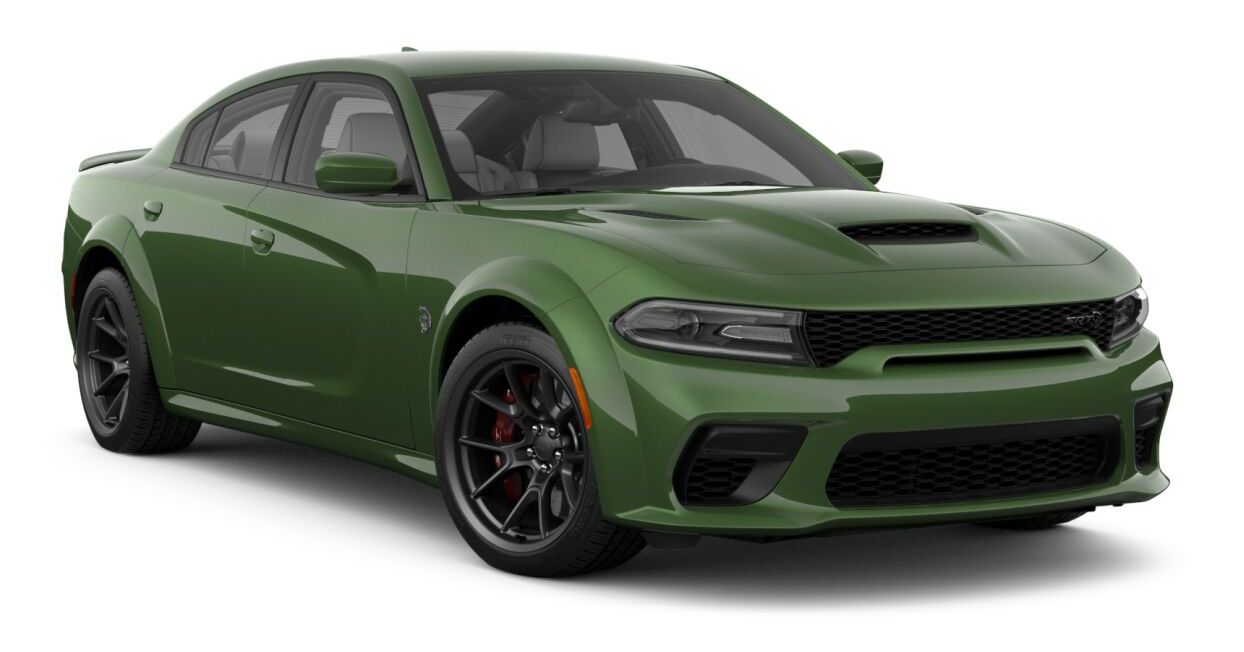 Charger Redeye Jailbreak
V8 Engine 6.2L HO - 807 HP
DISCOVER YOUR NEW CHARGER

The Charger SRT® Hellcat Widebody is a leader in performance and design. The Dodge Charger is the fastest and most powerful mass-produced sedan in the world

The Charger SRT Hellcat Widebody is leader of performance and design that defines raw muscle.
STOPPING ON A DIME
Whether it's a normal slow-down or sudden stoppage, you can be sure you're driving with confidence.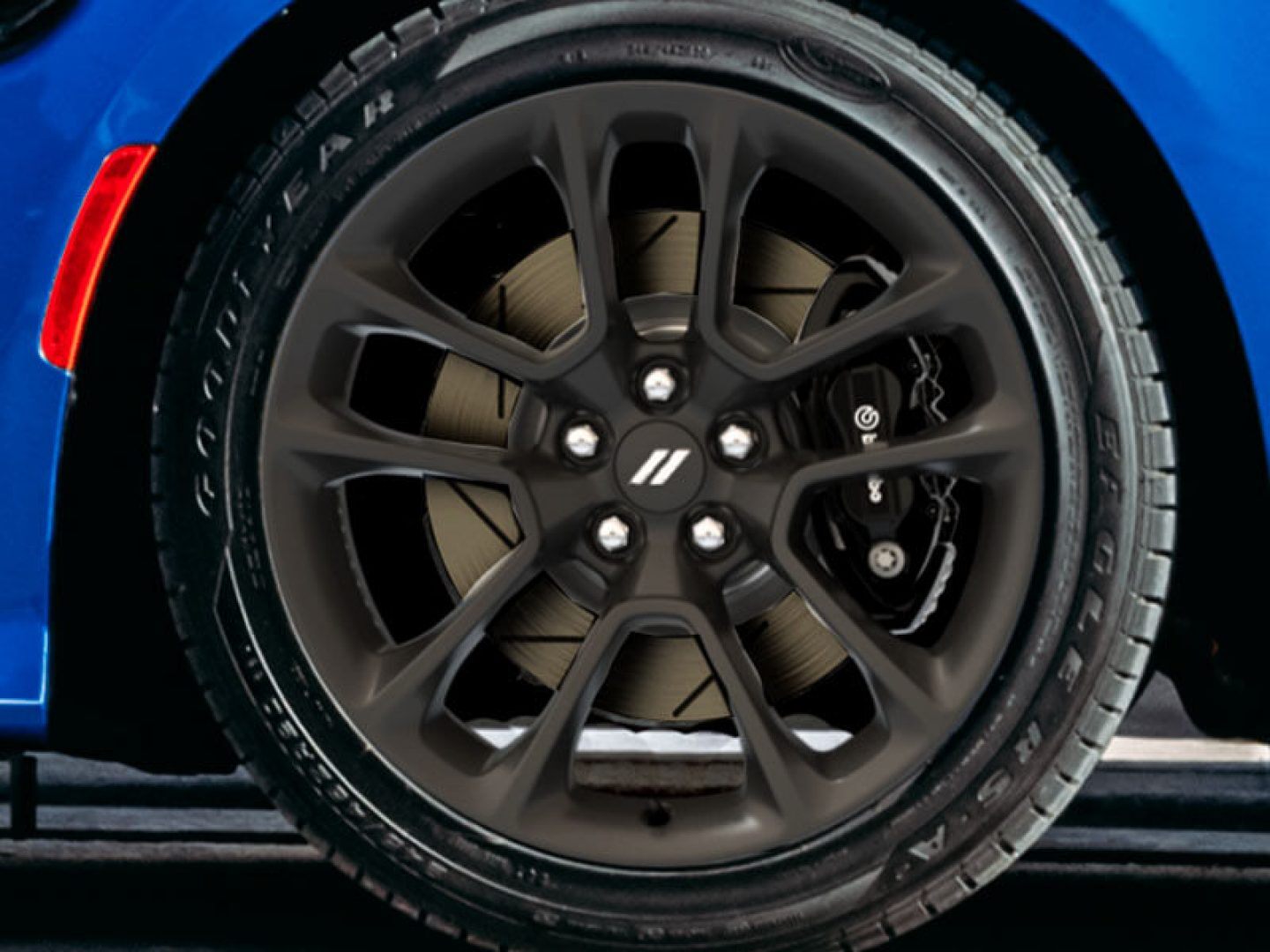 FOUR-PISTON BREMBO HIGH-PERFORMANCE BRAKES
The available four-piston Brembo Brake System offers improved steering control under extreme braking or slippery conditions.
SIX-PISTON BREMBO ULTRA HIGH-PERFORMANCE BRAKES
With the available six-piston Brembo Brake System, drivers experience racing-inspired stopping power and control on the open road.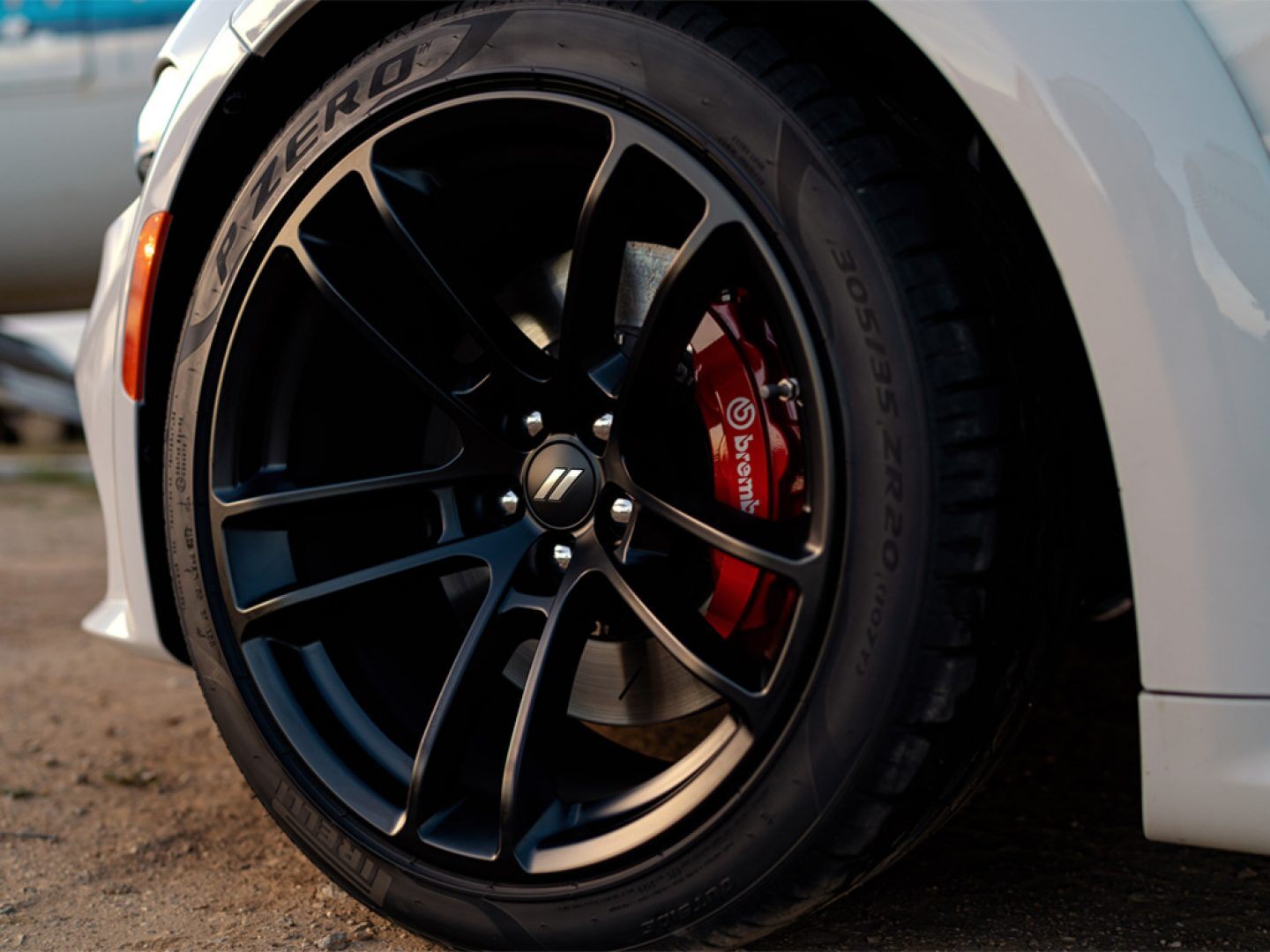 CALIPER COLORS
The available four-piston Brembo Brake System offers red or black calipers to make an extra statement. With the available six-piston Brembo Brake System, you can select from red, black, gunmetal or orange.

PERFORMANCE PAGES
Performance is the power that comes from within. As the roaring engine grips the streets from mile to mile, there is no course the Dodge Charger can't conquer.

GEARS OF GREATNESS
Our state-of-the-art Class-Exclusive TorqueFlite® eight-speed automatic transmission delivers world-class precision and efficiency along with the available Sport Mode and available steering wheel-mounted paddle shifting.
PERFECTION IN PRECISION
Pick out the perfect suspension system to fit your needs.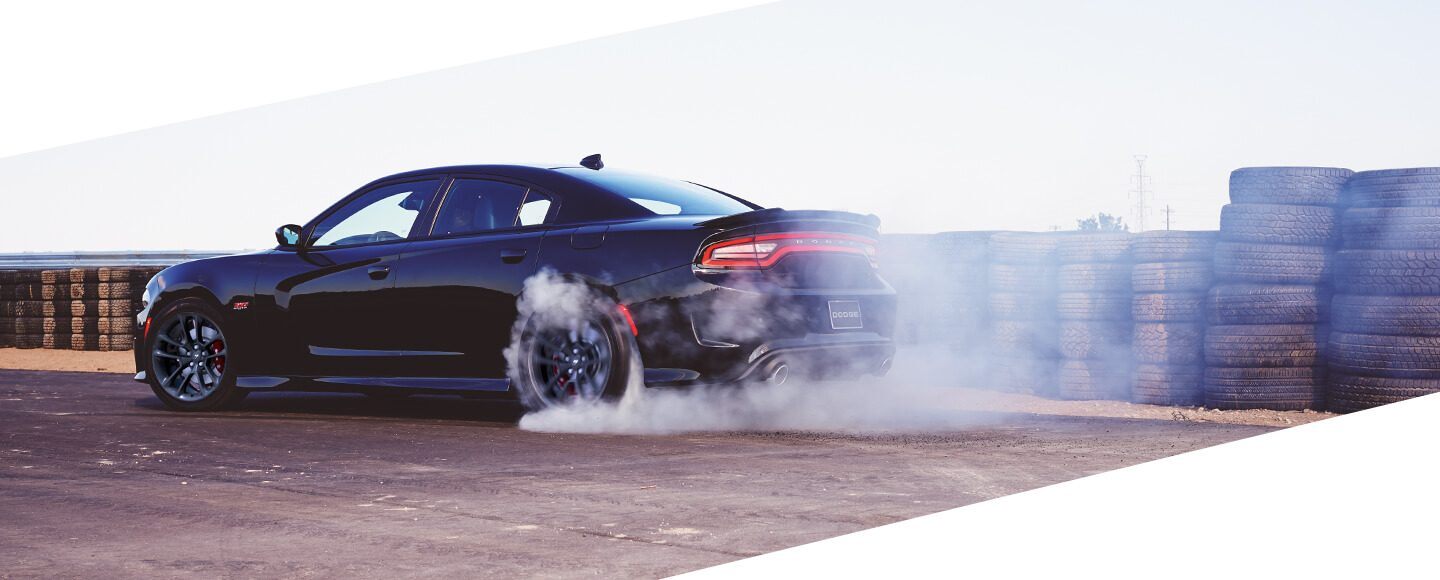 PERFORMANCE SUSPENSION
This sport-tuned suspension upgrade is standard. It includes springs, sway bars and Bilstein® high-performance shock absorbers. Lowered half an inch, it works in tandem with steering calibrations for sportier handling and an enhanced driving experience.
HIGH-PERFORMANCE SUSPENSION
The High-Performance Suspension is standard on Scat Pack. It builds on our sport-tuned performance suspension with Bilstein® high-performance shock absorbers for improved balance, cornering ability and steering responsiveness.
WIDEBODY COMPETITION SUSPENSION
Standard on the Charger SRT® Hellcat Widebody and included on the available Scat Pack with Widebody kit, the Widebody Competitive Suspension includes the Three-Mode Active Damping System, which allows drivers to select different suspension tuning to cater to their ride preference. Auto Mode provides a balance of stiffness and comfort for typical daily driving. Sport Mode provides firmer handling. Track Mode delivers maximum handling performance with the stiffest suspension tuning.

DRIVER SELECTABLE STEERING MODES
---
You have the power to pick your preference with Driver Selectable Steering Modes inside the Charger SRT® Hellcat Widebody and available on Scat Pack. Four race-inspired technologies come standard to boost performance even higher. They include Race Cooldown, Line Lock, Launch Control and Launch Assist.
SELECT YOUR STEERING
The more control, the better the drive. Electric power steering comes standard on all Charger models. Charger SRT® lets you choose from three driver-selectable steering modes: Street, Sport and Track.

THREE MODES: STREET, SPORT AND TRACK
Go for full on Mode with the selectable drive modes, standard on Charger SRT® Hellcat Widebody and available on Scat Pack.
ALWAYS IN CONTROL
Take full control of the gears with both hands on the wheel using available die-cast metal paddle shifters.
TILT AND TELESCOPING STEERING COLUMN
With the touch of a button, adjust the position of the steering wheel with the available power tilt and telescoping steering column.
HEATED LEATHER-WRAPPED STEERING WHEEL
Seats aren't the only commodity that need to be comfortable. When your hands are on the leather-wrapped steering wheel, you can cozy it up with a heated wheel option.
SLEEK AND SHARP
Here's one way to upgrade the way you drive. With the Driver Information Digital Cluster Display, Push Button Start/Stop, available Uconnect® 4C NAV and a performance shifter, there's nothing the Dodge Charger can't improve.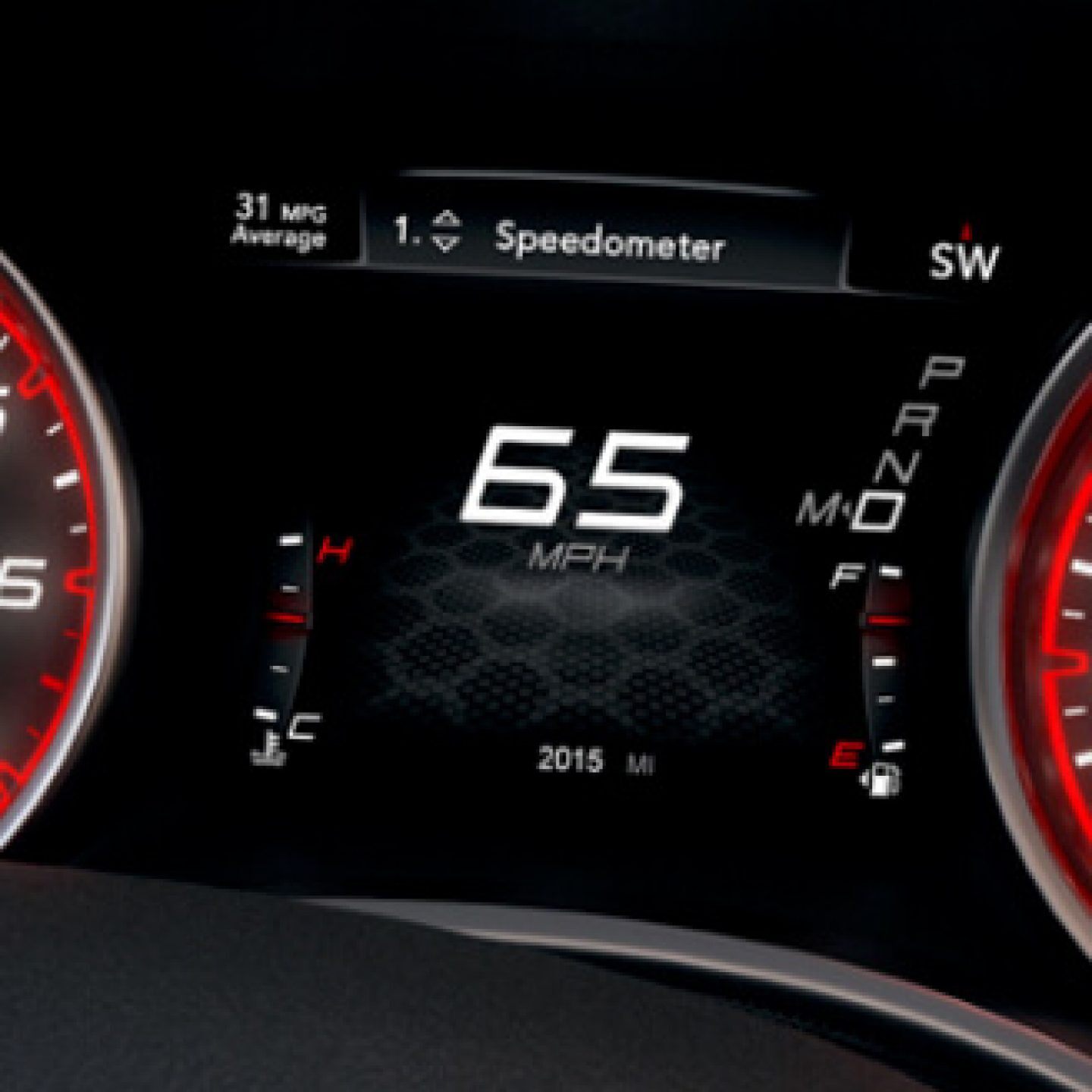 DRIVER INFORMATION DIGITAL CLUSTER DISPLAY
The 7-inch display gives you instant information on performance, available Navigation and vehicle stats. Easily customize the display with steering wheel-mounted controls.
PUSH BUTTON START/STOP
Seamless and convenient, you can start the engine by stepping on the brake pedal and pressing the Start/Stop button.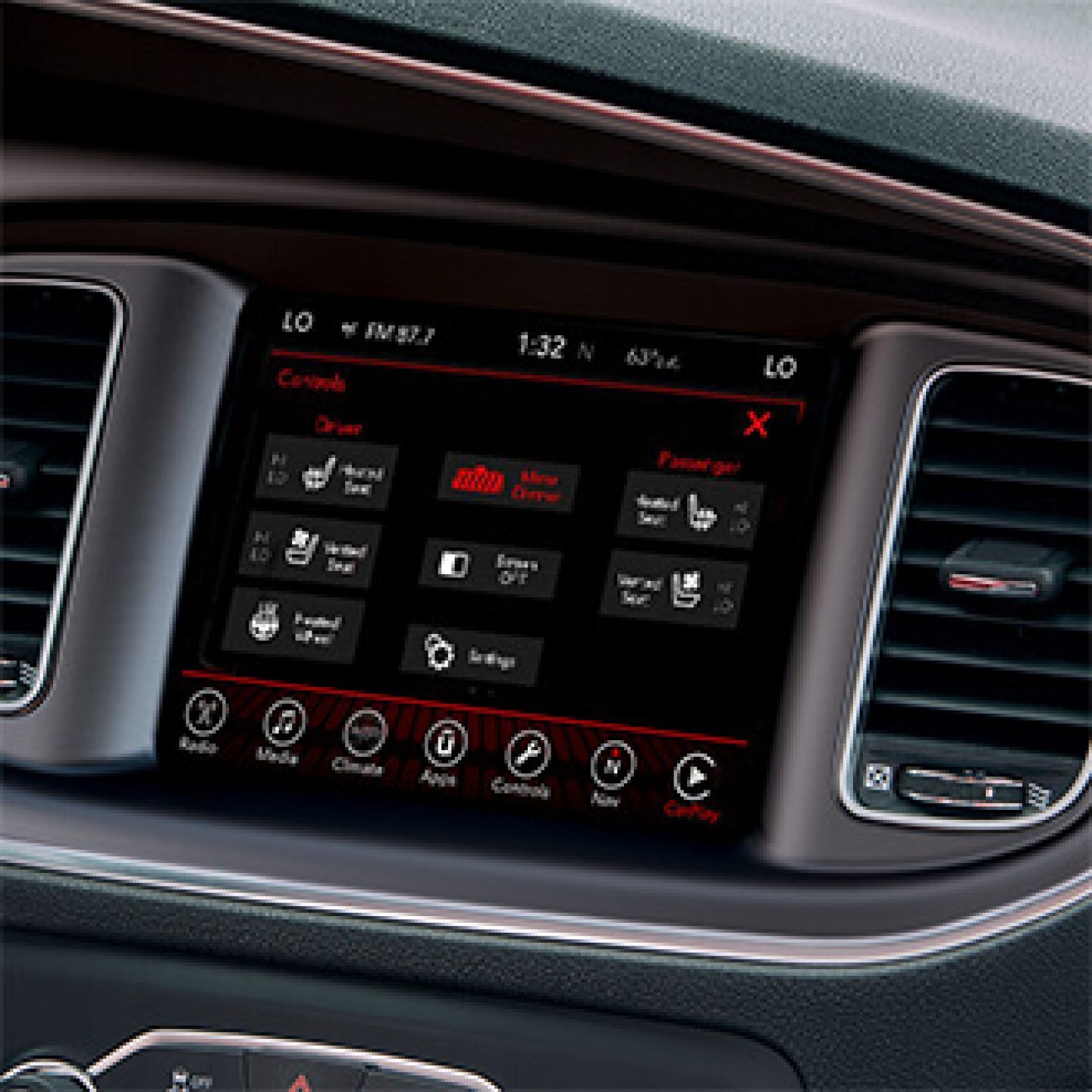 UCONNECT® 4C NAV
The available Uconnect® 4C NAV features  which includes Roadside Assistance, Remote Vehicle Start and more.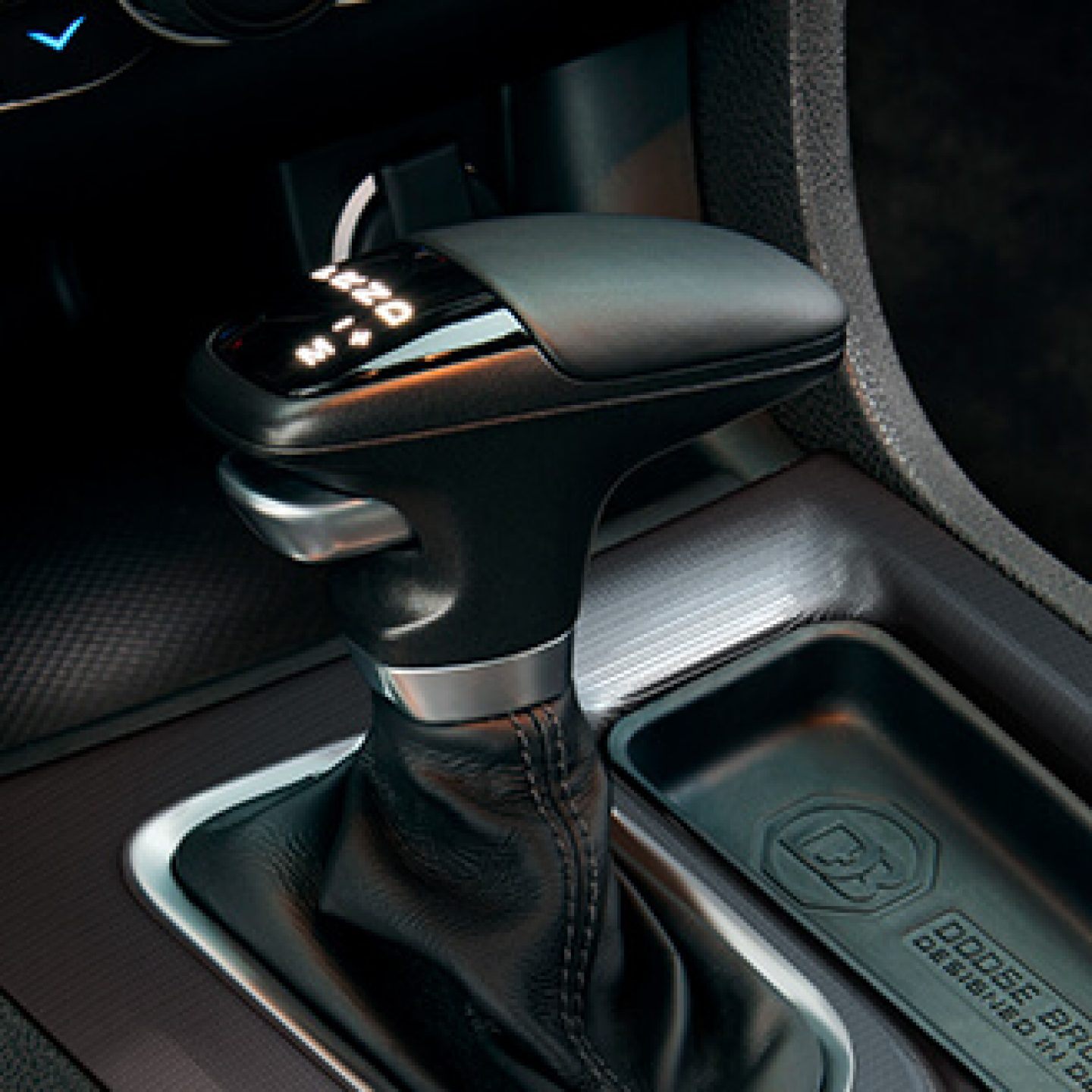 PERFORMANCE SHIFTER
The Class-Exclusive TorqueFlite® eight-speed automatic transmission has a fully electronic shifter that looks and feels like a traditional linkage shifter.
PLENTY OF ROOM FOR THE RIDE
From the interior to the trunk, there's more than enough room for your passengers and your cargo.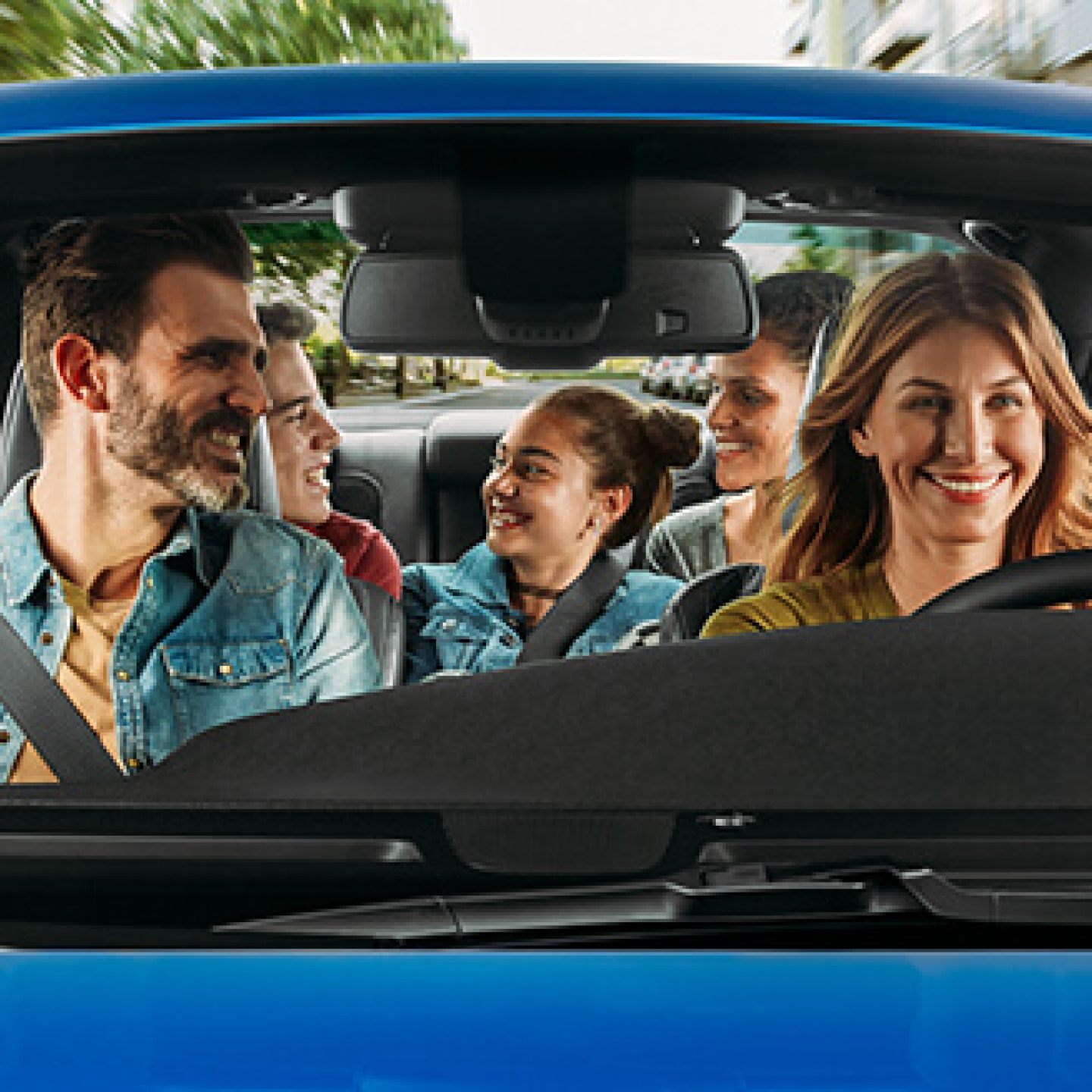 FIVE-PASSENGER SEATING
Get the family together or take your friends out on the town with seating for up to five.
60/40 SPLIT-FOLDING REAR SEATS
Pack and stack your cargo with ease by folding down either or both of the split-folding rear seats.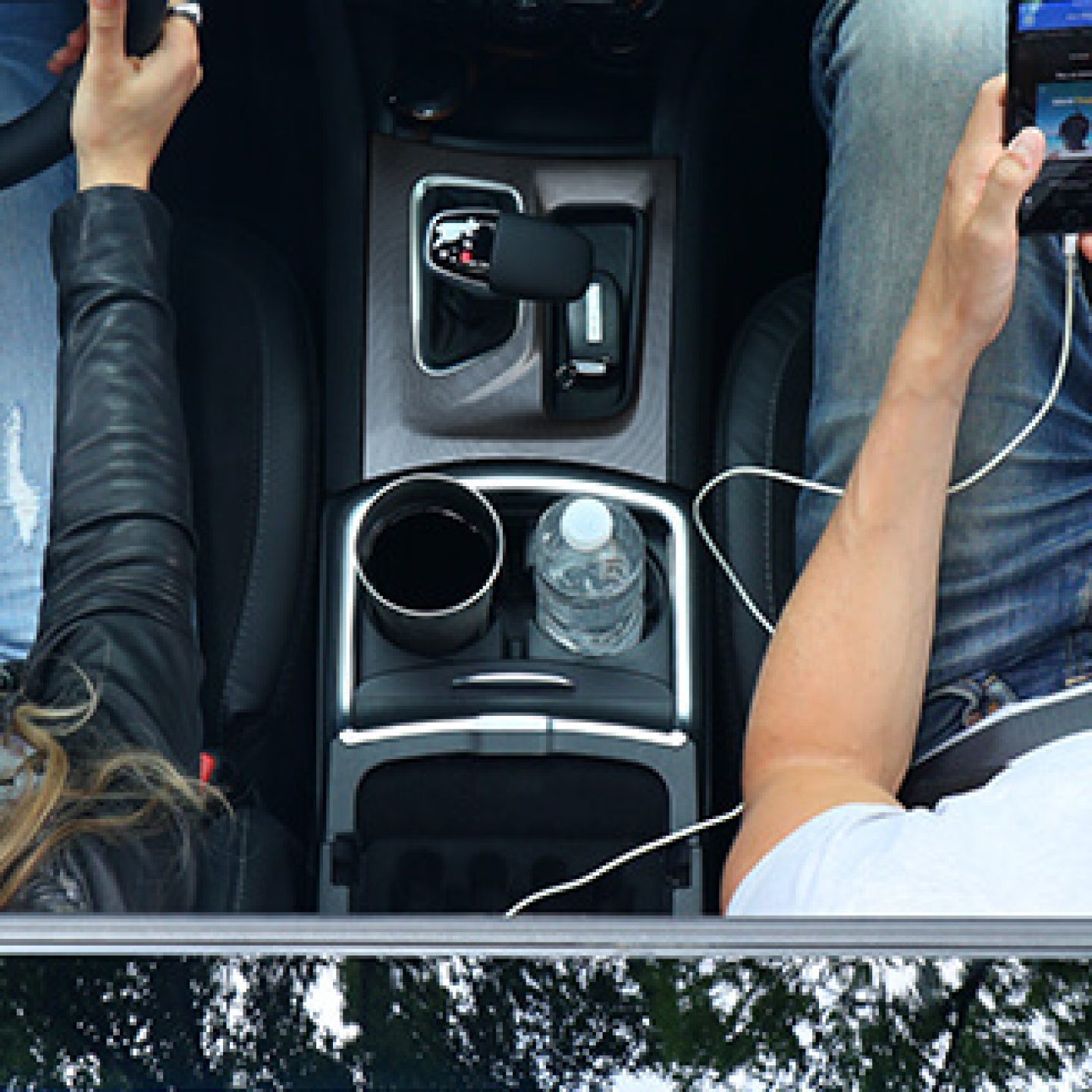 INTERIOR SPACE AND CENTER CONSOLE
Crammed together is no way to ride. Up to 104.7 cubic feet of interior room provides ample comfort for everyone.
TRUNK STORAGE
Get it all in one trip. Load up with up to 16.5 cubic feet of trunk space for whatever goods you've got.

SPEAKERS
Pump up the volume with the six-speaker Alpine®System, the available nine-speaker Alpine Audio System, or the ultimate available 19-speaker Harman Kardon® Audio System.
ANDROID AUTO™ AND APPLE CARPLAY®
Gain access to everything you need by connecting to Apple CarPlay®via your iPhone®. Android phones can link up to Android Auto™ to use apps through the Uconnect® touchscreen.

KNOW WHAT'S COMING
Being aware is the most important part of driving. The Dodge Charger offers several available safety and security features that keep a close eye on your surroundings and can warn you when danger is approaching.

AUTOMATIC HIGH-BEAM HEADLAMPS
The available Automatic High-Beam Headlamps switch automatically from high- to low-beam when they detect ambient light from oncoming traffic.
The available Blind Spot Monitoring System assists you in changing lanes by alerting you when a vehicle enters one of your blind spot zones.
This available system conveniently adjusts cruising speed automatically to help maintain your set distance from the vehicle in front of you.
PARKVIEW® REAR BACK UP CAMERA
The ParkView® Rear Back Up Camera helps you see what's behind you on the Uconnect® touchscreen when you shift into reverse. Gridlines assist you while maneuvering into parking spaces or narrow areas.
FULL-SPEED FORWARD COLLISION WARNING
Available Full-Speed Forward Collision Warning will transmit audible warnings, visual proximity warnings and brake the vehicle if necessary.

SOLID SAFETY FRAME
A solid safety frame built with high-strength steel and ample roof strength helps protect the passenger compartment in the event of an accident.
AIRBAGS THROUGHOUT
Advanced multistage front airbags, supplemental full-length side-curtain airbags, front seat-mounted pelvic-thoracic side airbags and a driver side knee blocker airbag all come standard.
ACTIVE FRONT HEAD RESTRAINTS

ALL-SPEED TRACTION CONTROL
All-Speed Traction Control helps maintain traction and stability by applying brake pressure to slipping wheels and reducing engine power when necessary to help the tires regain traction.
HILL START ASSIST
When you're on a hill, Hill Start Assist will maintain brake pressure for a short period of time between the release of the brake pedal and the push of the accelerator, preventing the vehicle from rolling backwards.
ELECTRONIC STABILITY CONTROL
Conquer nearly any road condition with Electronic Stability Controll (ESC), which monitors your steering input and vehicle motion to help you maintain directional control.
AVAILABLE ADAPTIVE CRUISE CONTROL WITH STOP
Available Adaptive Cruise Control with Stop (ACC STOP) automatically adjusts your vehicle's cruising speed to help maintain your set distance using throttle control and limited braking.
MAKING SURE YOU'RE SECURE
Our priority is to keep you out of harm's way. Drive with assurance that you're in good hands.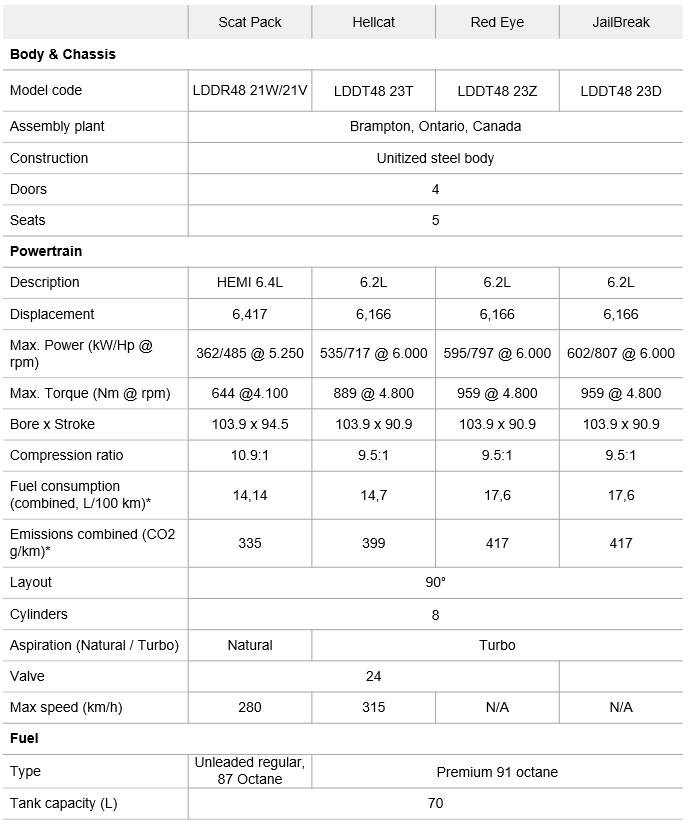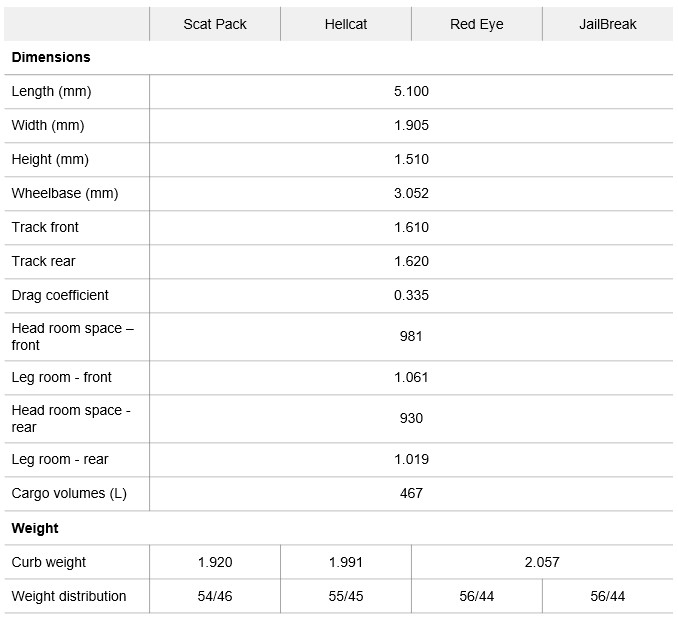 OUR DODGE CHARGER LINE UP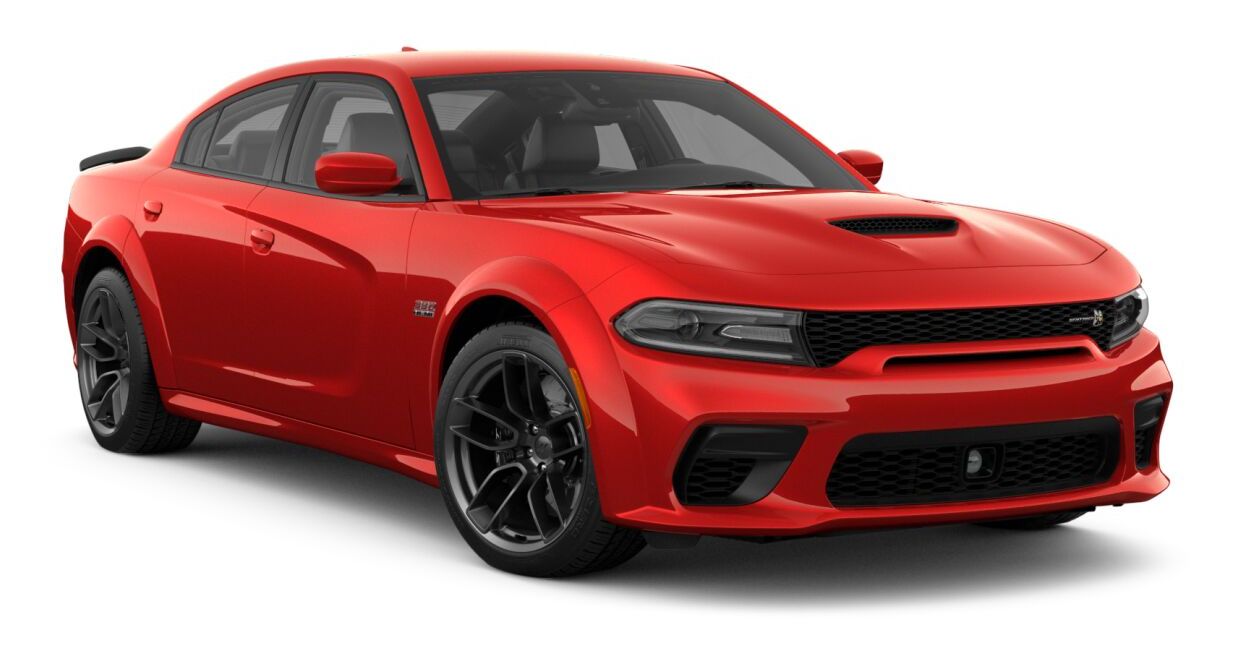 SCAT PACK
6.4L HEMI® V8 Engine with 485 hp
Widebody package with fender flares
Harman Kardon 18 Speakers
Real carbon fiber interior accents
Suede headliners
Launch control
Front seats and steering wheel heated
Ventilated front seats
Heated rear seats
Brembo red brake calipers
SCAT PACK HEMI ORANGE
6.4L HEMI® V8 Engine with 485 hp
Widebody package with fender flares
Harman kardon 18 speakers
Real carbon fiber interior accents
Suede headliners
Launch control
Front seats and steering wheel heated
Ventilated front seats
Heated rear seats
Brembo orange brake calipers
Orange interior accent stitch
Hemi orange badges
SRT® HELLCAT
Supercharged 6.2L HEMI® SRT V8 Engine With 717 hp
Widebody package with fender flares
Alcantara/Laguna seats
Harman Kardon 18 Speakers
Real carbon fiber interior accents
Suede headliners
Launch control
Front seats and steering wheel heated
Ventilated front seats
Heated rear seats
Brembo red brake calipers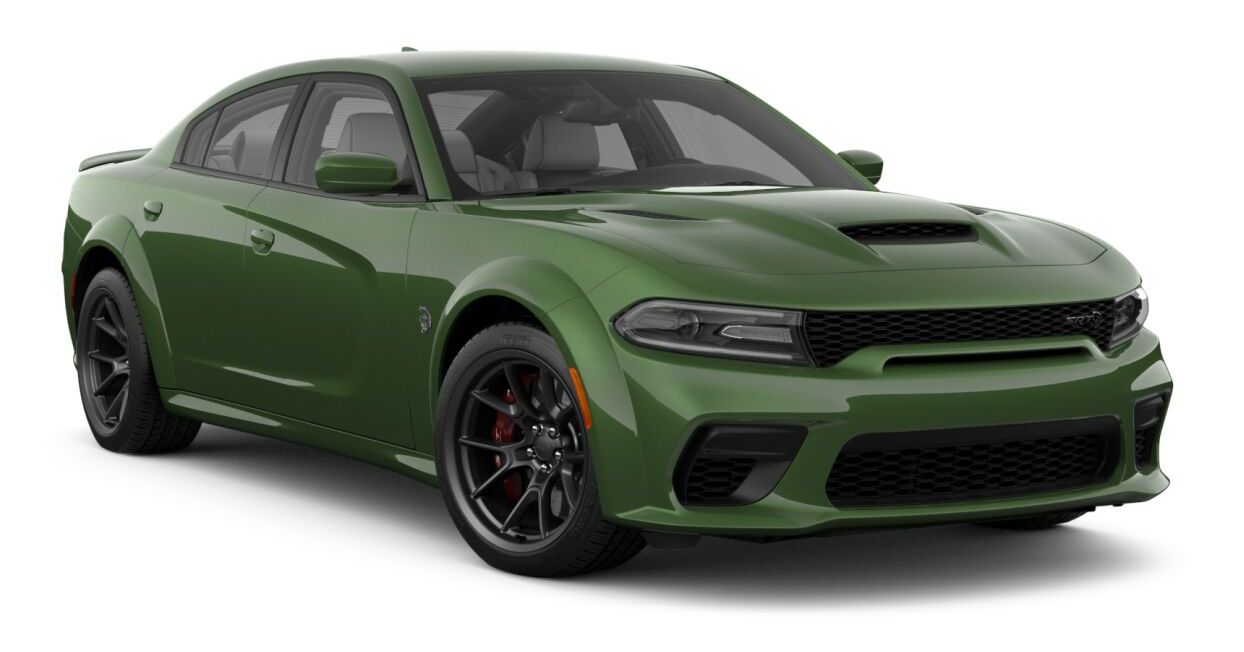 DODGE CHARGER SRT® REDEYE JAILBREAK
Supercharged 6.2L HEMI® SRT V8 Engine With 807 hp High Output
Widebody package with fender flares
Alcantara/Laguna seats
Harman Kardon 18 Speakers
Real carbon fiber interior accents
Suede headliners
Launch control
Front seats and steering wheel heated
Ventilated front seats
Heated rear seats
Brembo red brake calipers