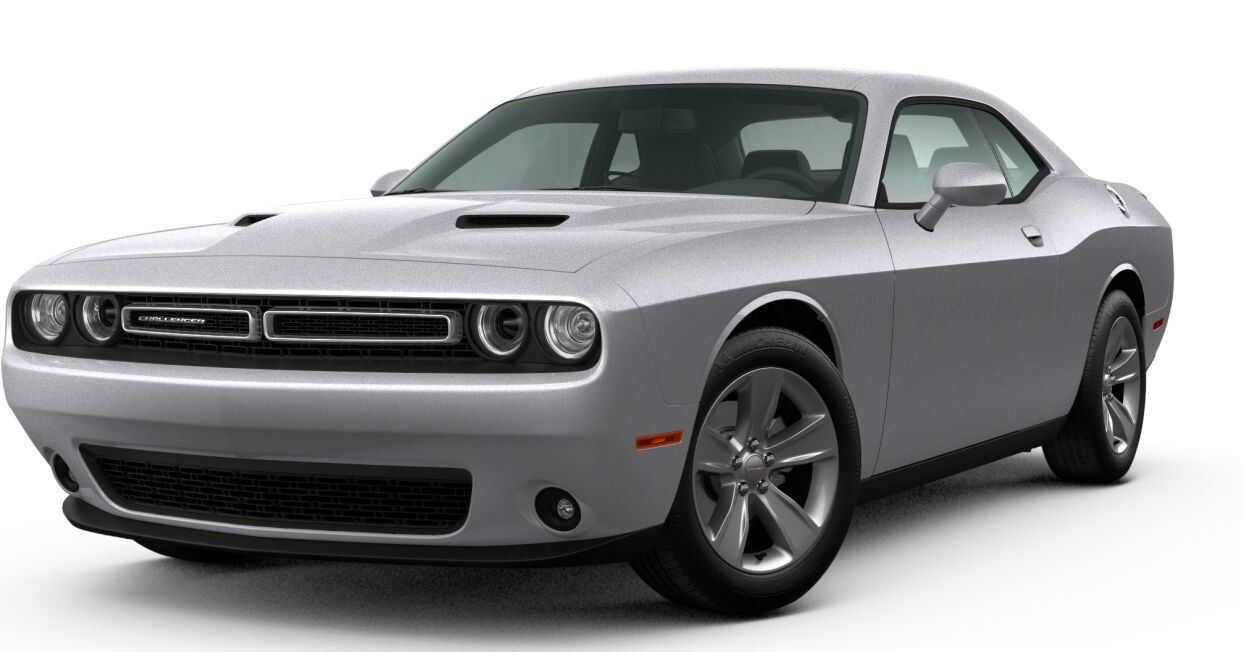 SXT RWD
V6 Engine 3.6L - 305 HP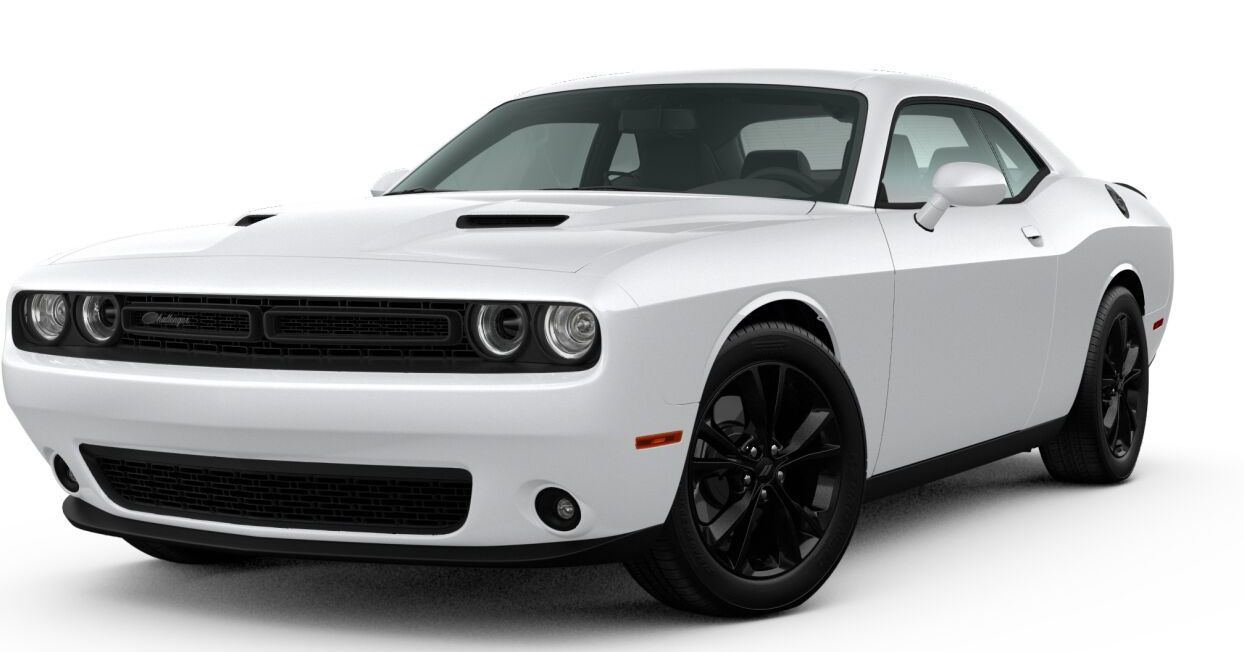 SXT AWD
V6 Engine 3.6L - 305 HP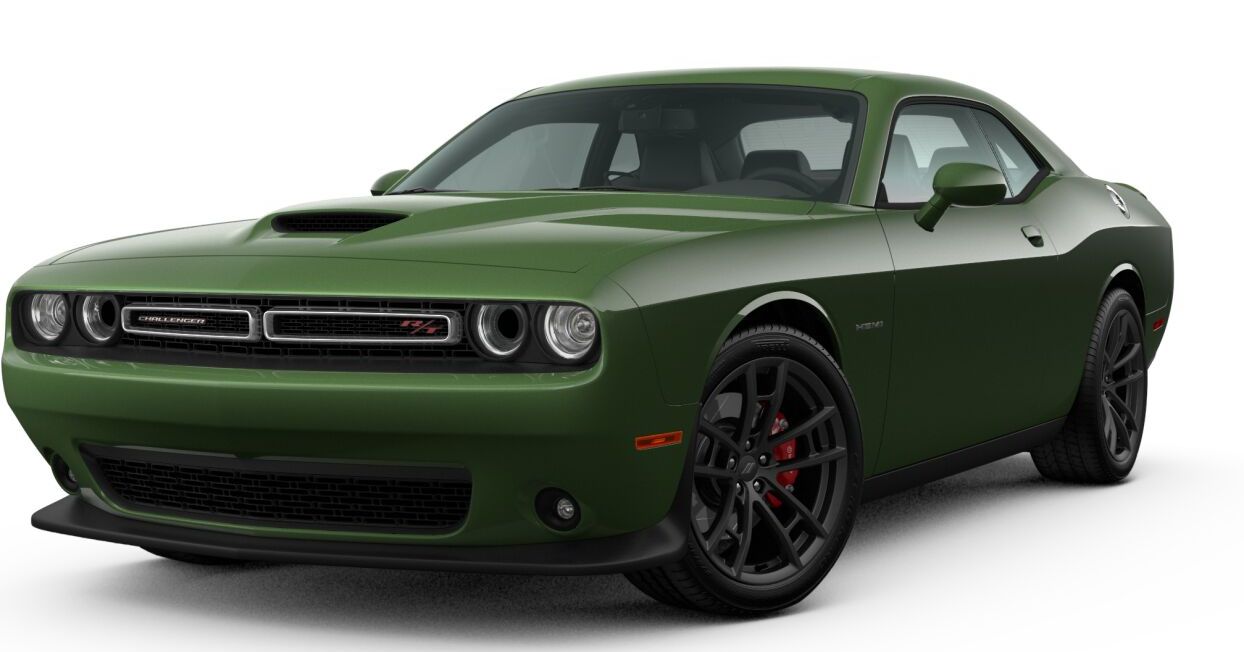 R/T
V8 Engine 5.7L - 370 HP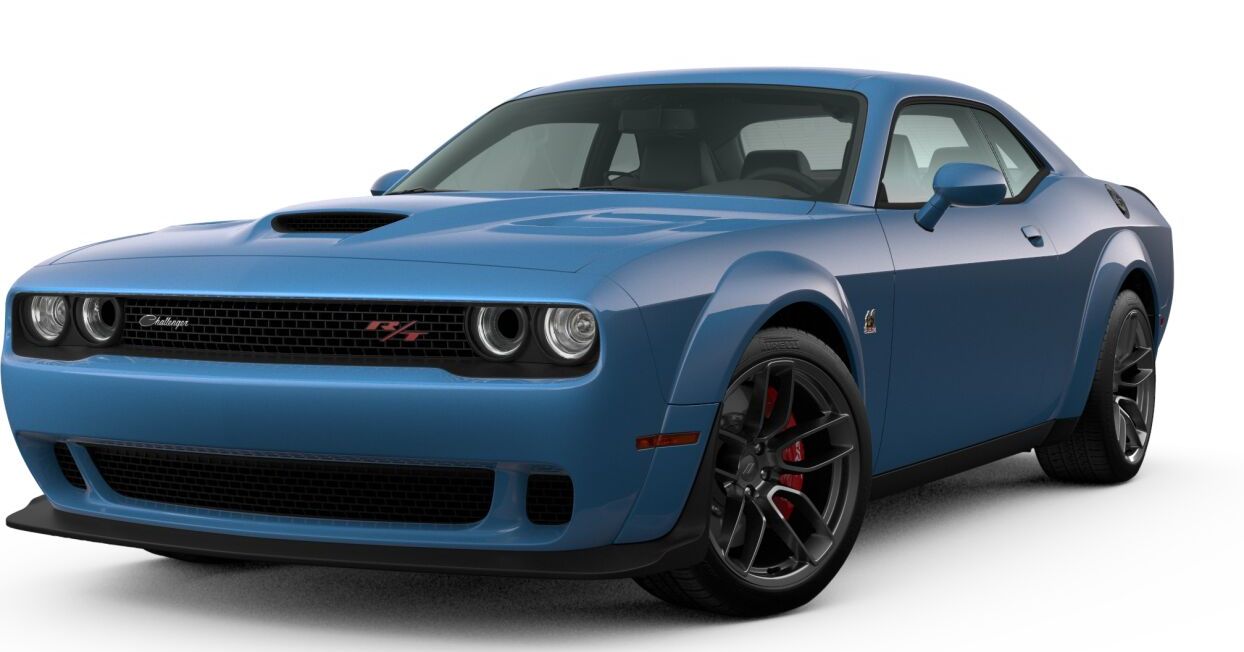 SCAT PACK Widebody
V8 Engine 6.4L - 485 HP
SRT® Hellcat Widebody
V8 Engine Supercharged 6.2L - 717 HP
SRT® Redeye Widebody Jailbreak
V8 Engine Supercharged 6.2L - 807 HP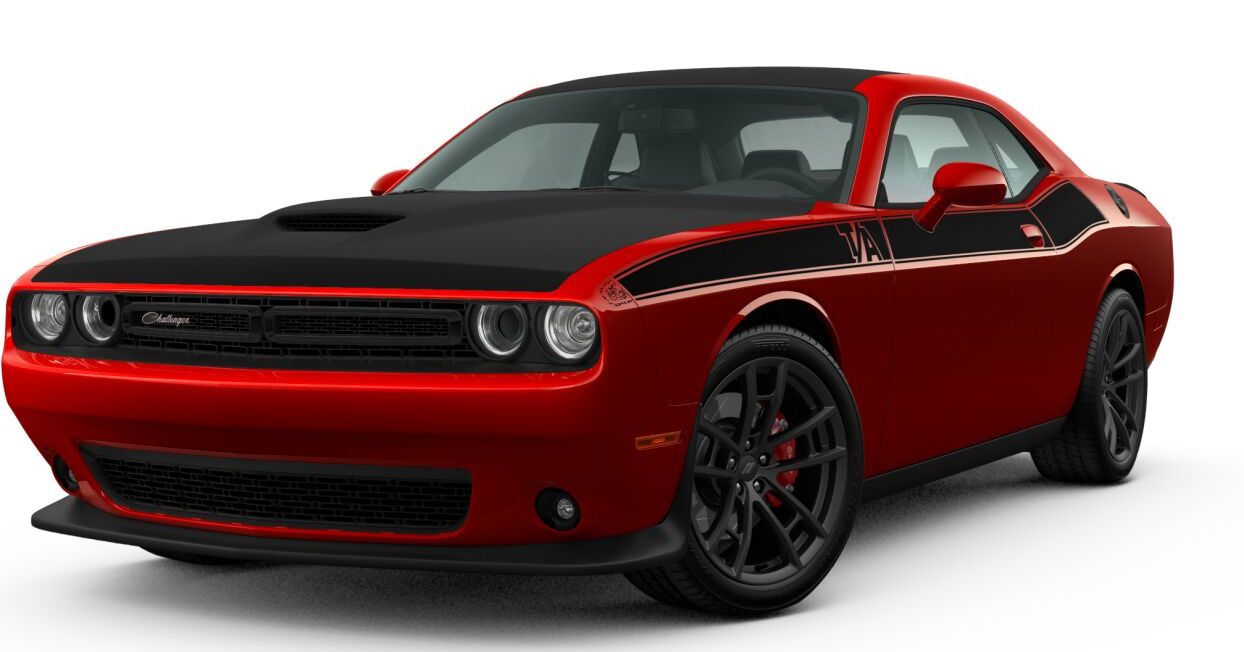 R/T T/A
V8 Engine 5.7L - 370 HP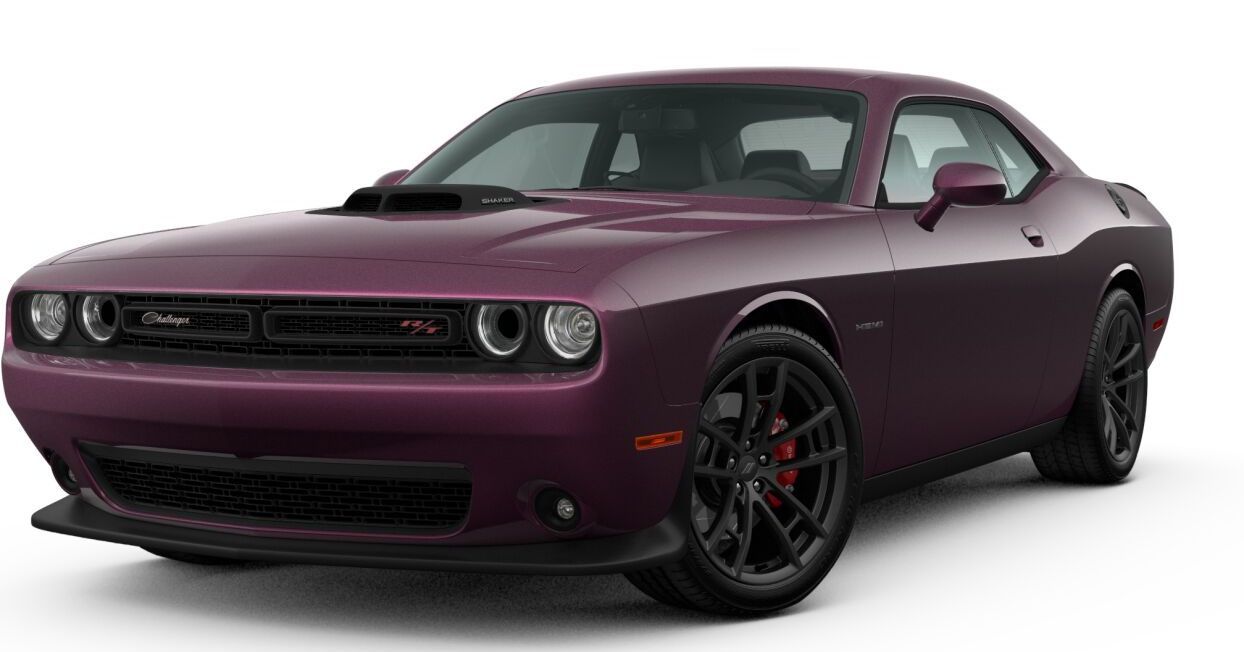 R/T Shaker
V8 Engine 5.7L - 370 HP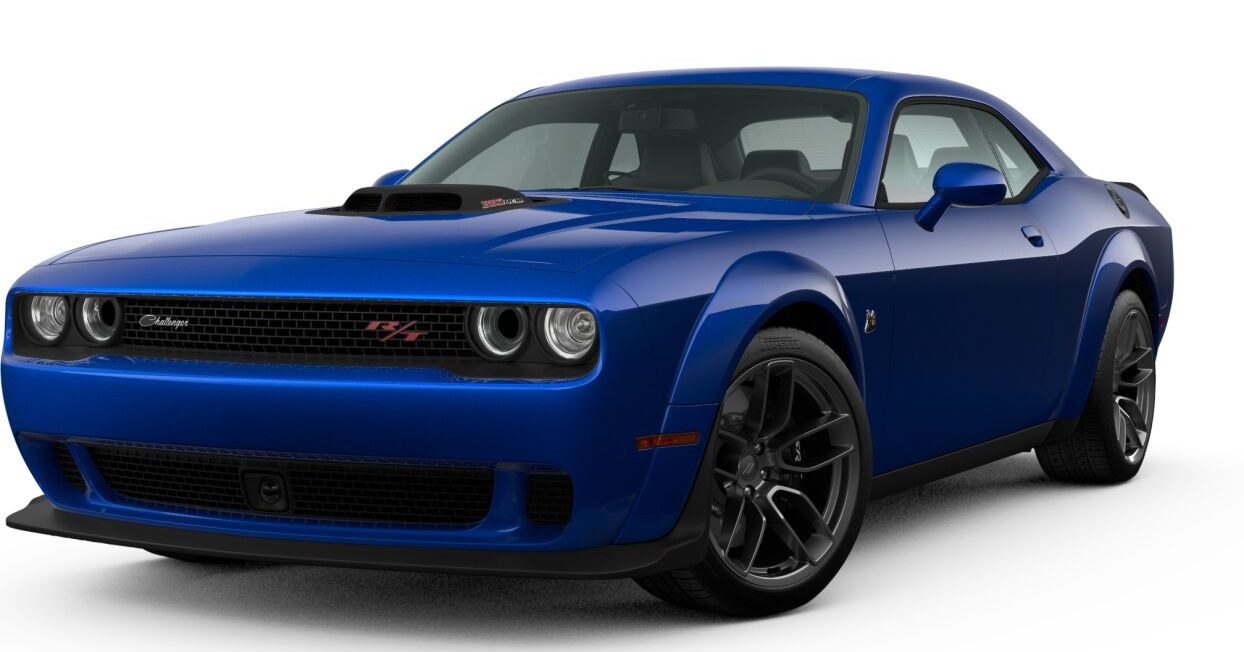 SCAT PACK Shaker
V8 Engine 6.4L - 485 HP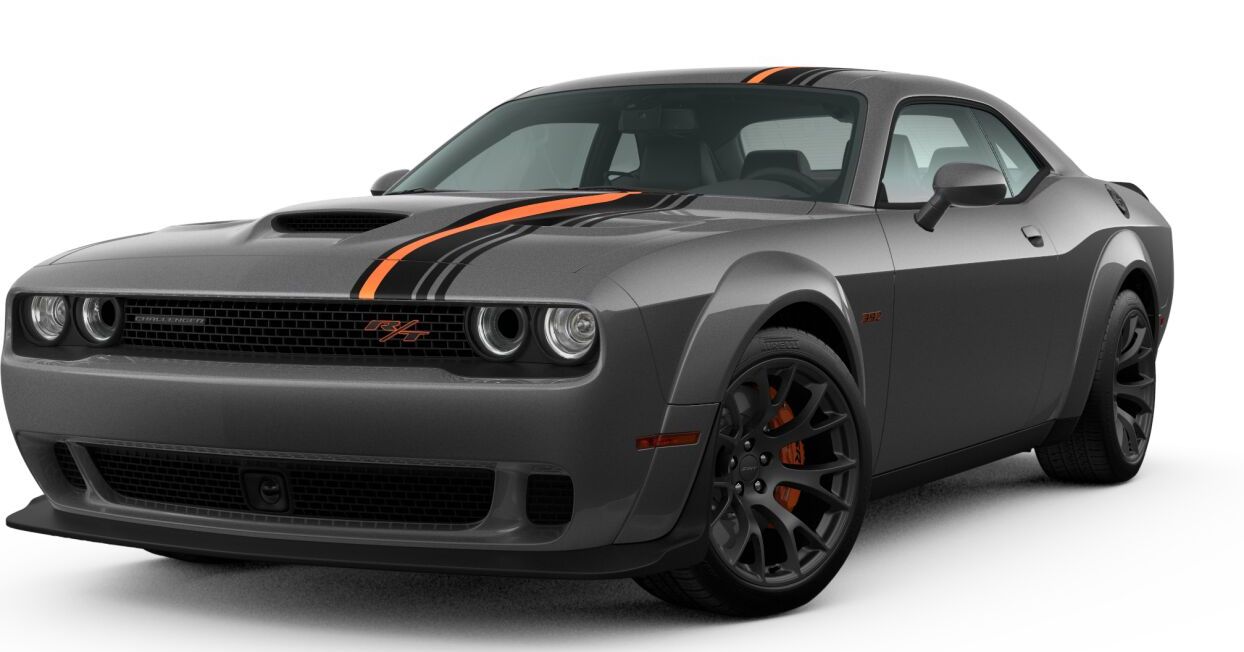 SCAT PACK Hemi Orange
V8 Engine 6.4L - 485 HP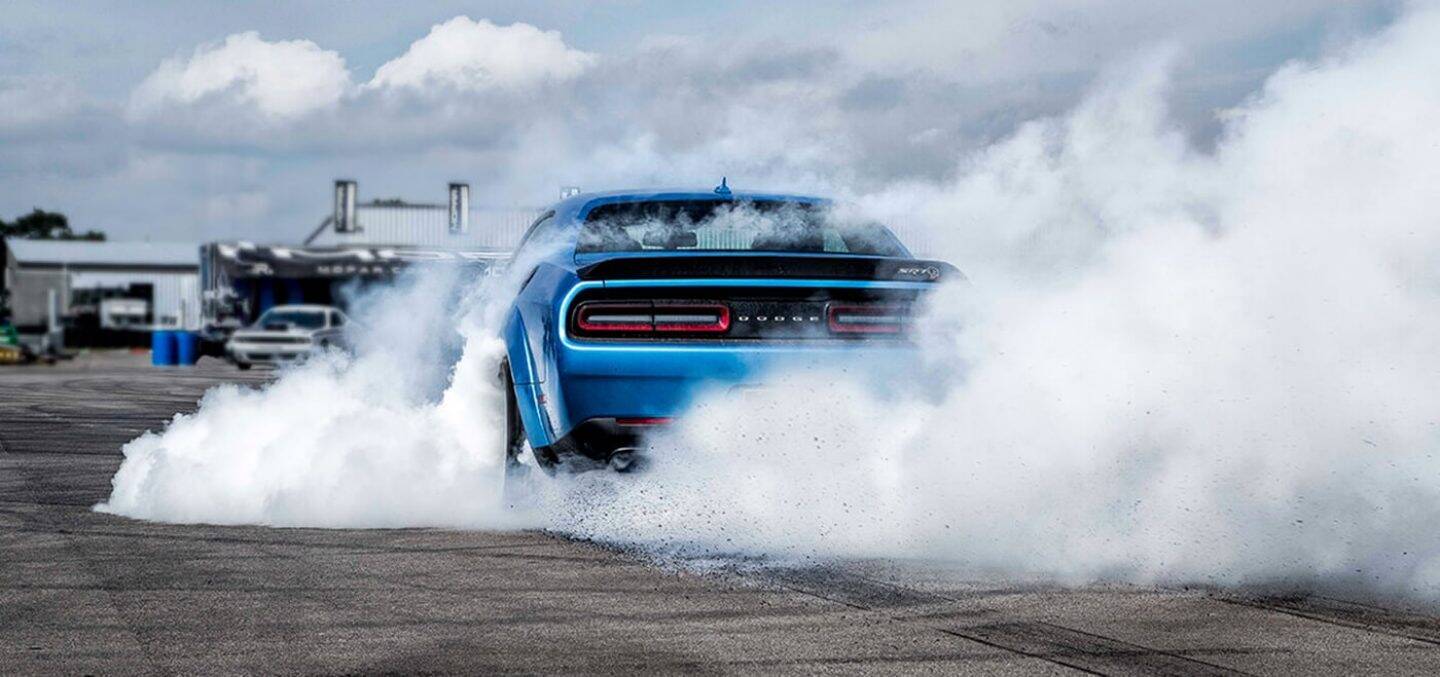 PINNACLE OF PERFORMANCE
The Dodge Challenger is a direct descendent of legendary racing lineage. Expect nothing but otherworldly power.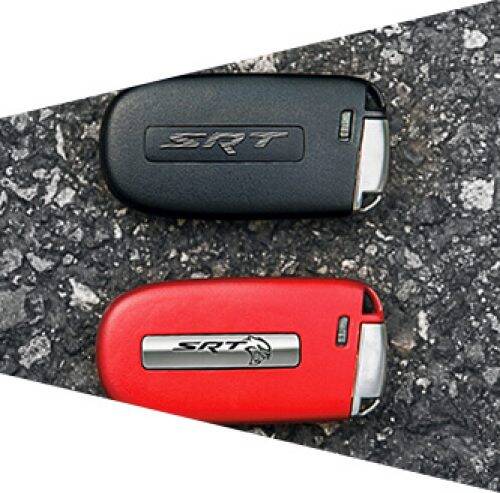 PICK YOUR POWER
Use the black key fob and get outstanding performance for everyday driving with up to 500 horsepower. Or grab hold of the red key fob and unleash the full potential of up to 807-horsepower Dodge Challenger SRT® Redeye.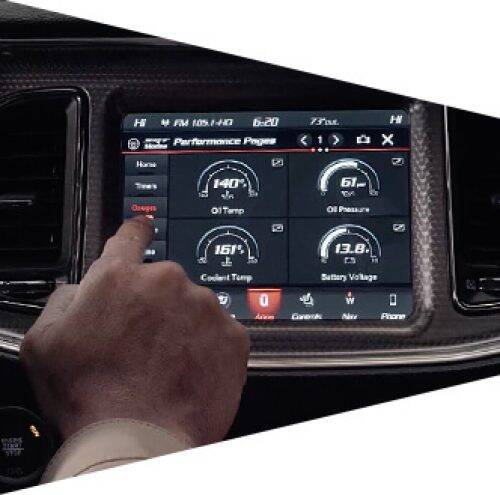 AVAILABLE LAUNCH CONTROL
Ready to punch it? This carefully calibrated program delivers improved acceleration off the line.

BRAKES THAT NEVER TAKE A BREAK
Significant technology upgrades come by way of four exceptional brake systems.
SPORT BRAKE SYSTEM
The sport brake system features 12.6-inch front and rear vented rotors and comes standard on Challenger SXT.
PERFORMANCE BRAKE SYSTEM
Large front rotors (13.6 inches) and dual piston front sliding calipers improve brake performance. Standard on GT and R/T, the Super Track Pak option adds performance brake linings for reduced brake fade under heavy braking conditions.
BREMBO FOUR-PISTON BRAKE SYSTEM
With four-piston Brembo calipers and 14.2-inch (front) and 13.8-inch (rear) vented/slotted rotors, the Dodge Challenger R/T Scat Pack and 392 HEMI®Scat Pack SHAKER deliver a braking distance of 100-0 km/h in 36 meters.
BREMBO SIX-PISTON BRAKE SYSTEM
Standard on the Dodge Challenger SRT® Hellcat is the largest front brake system ever offered on any FCA US LLC vehicle, featuring 390-mm (15.4-inch) Brembo two-piece rotors with six-piston calipers.

PERFORMANCE PAGES
Harness the power of choice with available Dodge Performance Pages. Select settings for the engine, transmission, steering and throttle response.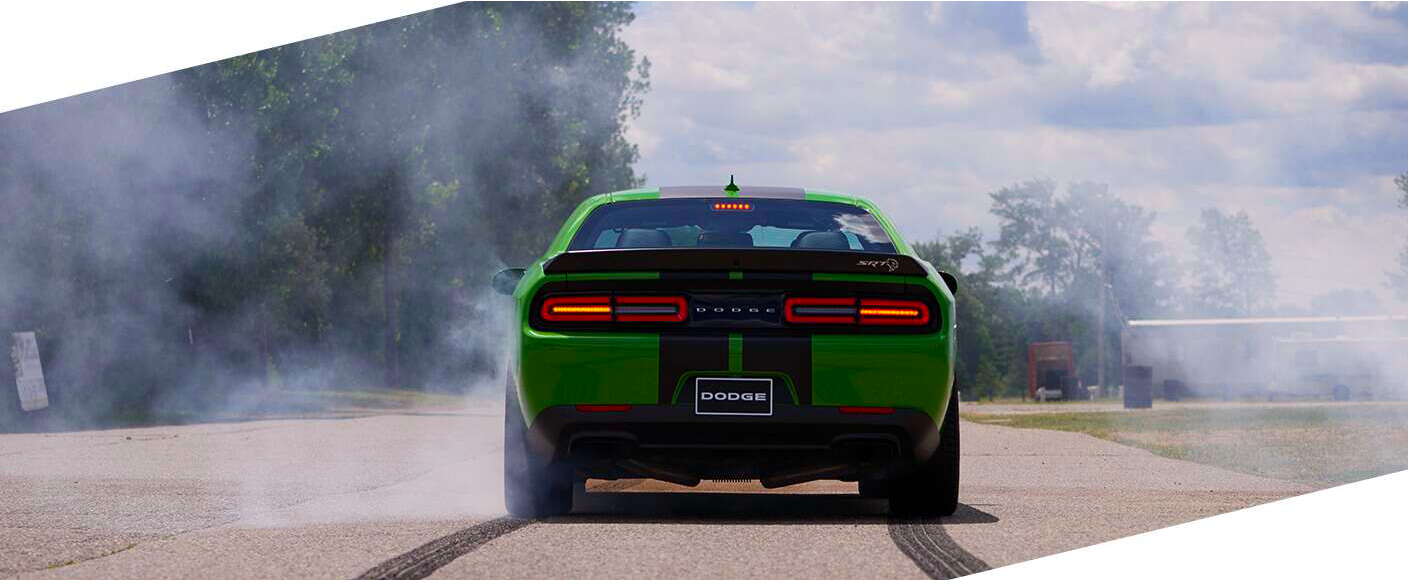 MAKE WAY FOR MORE MUSCLE
The Dodge SRT® Hellcat is an icon of engineering with undisputed power. The available Class-Exclusive TorqueFlite® Eight-Speed Automatic Transmission combined with a 717 or 807 horsepower engine makes for an unbelievable ride.
TRACTION CONTROL
All-speed traction control helps maintain traction and stability by applying brake pressure to slipping wheels and reducing engine power when necessary to help the tires regain traction.
DRIVELINE COMPONENTS
A rear-wheel-drive design and near 50/50 weight distribution impart an exhilarating driving experience. During acceleration, weight shifts to the drive axle to increase down-force and improve traction.
ALUMINUM AXLE
Lighter-weight cast aluminum axles and housings help reduce weight and friction compared to the previous generation. The housing also includes a four-bolt design for increased durability.
HERITAGE INSPIRED
---
From the available illuminated Air-Catcher® Headlamps to the shape of its body, the Dodge Challenger is dripping with muscle that pays homage to its historic DNA.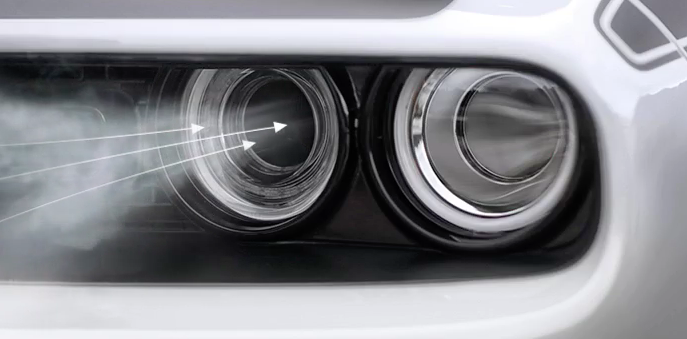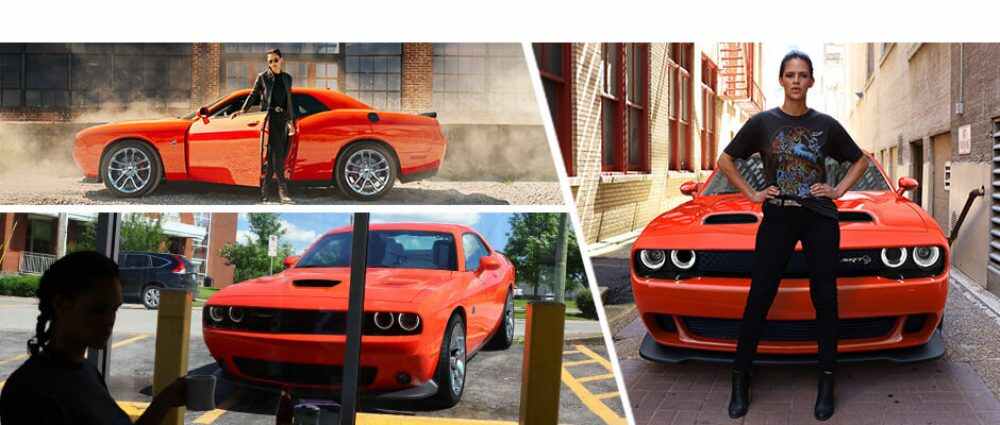 From the grille to the hood scoop to the iconic body shape, the Dodge Challenger stirs up nostalgia.
WHEELS
From the ground up, even the wheels on the Challenger spin with style.

STRONG ON THE INSIDE
---
We designed the interior around the most important element: the driver. The finely crafted interior has Best-in-Class passenger room and is loaded with tech that puts you in control. And with comfortable Class-Exclusive seating for up to five, you can bring your crew along for a high-octane ride.
CARGO CAPACITY
With Best-in-Class cargo volume, the Dodge Challenger has incredible capacity.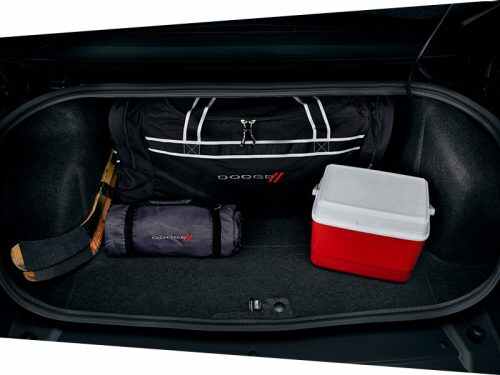 CARGO SPACE
The trunk of the Dodge Challenger proudly boasts Best-in-Class cargo volume.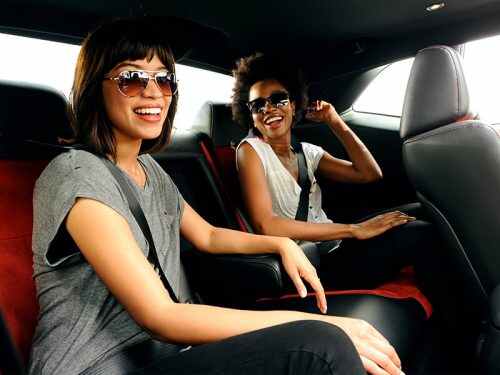 INTERIOR SPACE
The Dodge Challenger also offers Best-in-Class passenger room.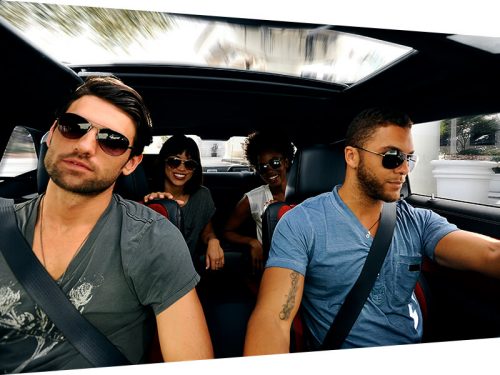 FIVE-PASSENGER SEATING
Class-Exclusive five-passenger seating in the Dodge Challenger means you and your crew can ride comfortably in one car.
CAREFULLY CUSTOMIZED
Heritage Tic-Toc-Tach gauges flank the 7-inch reconfigurable Driver Information Digital Cluster Display that includes 0-60 time, a lap timer and available turn-by-turn Navigation.

SMART IN ALL THE RIGHT PLACES
---
Technology is what separates the leaders from the followers. It makes muscle cars stronger and cars that offer entertainment choices even more epic.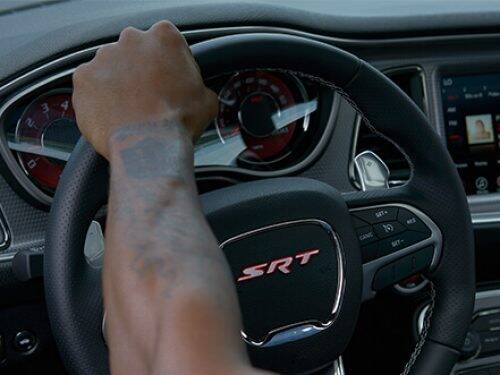 A SMARTER WAY TO DRIVE
The Dodge Challenger puts state-of-the-art advanced technology in your hands to help you maximize every ride.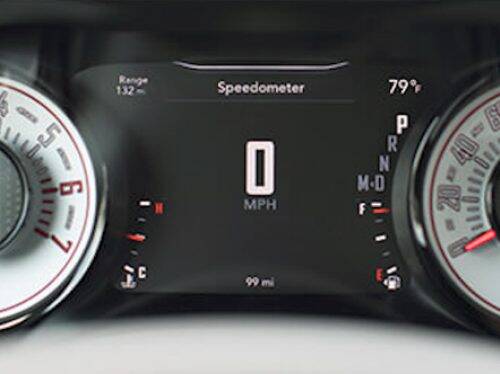 CUSTOMIZE THE RIDE
The 7-inch reconfigurable Driver Information Digital Cluster Display lets you keep track of information like fuel consumption. It also lets you configure your vehicle's programmable features.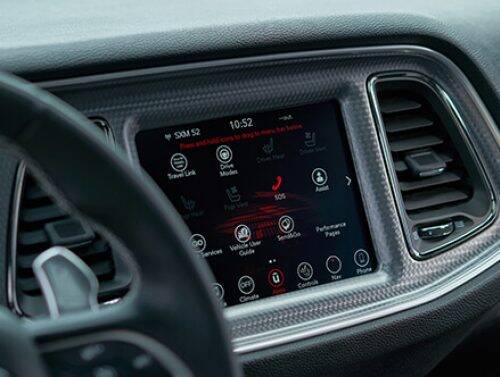 BIG-TIME BRAINS
The available Uconnect® 4C NAV comes with a Largest-in-Class 8.4-inch touchscreen featuring your favorite apps as well as Navigation with 3-D graphics.

LISTEN UP
Every trip needs a theme song, so pick the speakers to blast your anthem.

ALPINE® AUDIO GROUP
The available Alpine® Audio Group comes with nine Alpine speakers, a subwoofer and a 506-watt amplifier that dials things up to 11.
HARMAN KARDON® AUDIO GROUP
Push it to the limit with 900 watts and two subwoofers with the available 18-speaker Harman Kardon® Premium Sound Group.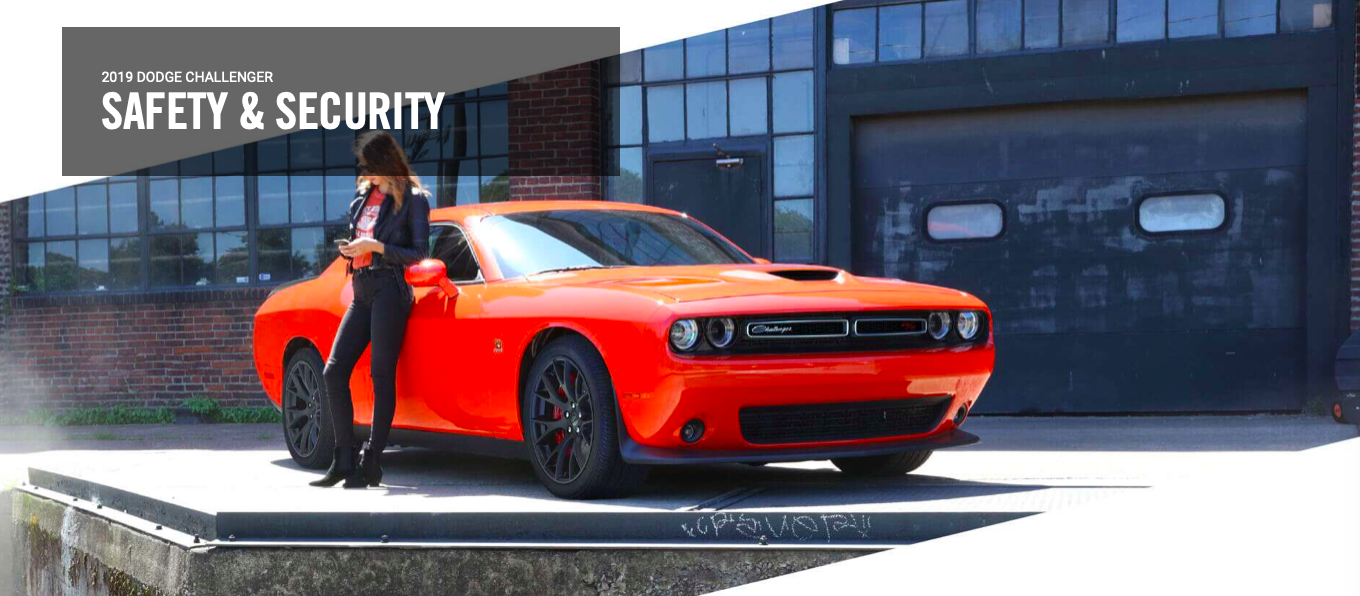 ALWAYS ON THE SECURE SIDE
---
There's no room for error when it comes to driver safety and the Dodge Challenger has features to help keep you safe and secure should something happen.

AUTOMATIC HIGH-BEAM HEADLAMPS
The available Automatic High-Beam Headlamps switch automatically from high- to low-beam when they detect ambient light from oncoming traffic.
The available Blind Spot Monitoring System assists you in changing lanes by alerting you when a vehicle enters one of your blind spot zones.
This available system conveniently adjusts cruising speed automatically to help maintain your set distance from the vehicle in front of you.
PARKVIEW® REAR BACK UP CAMERA
The ParkView® Rear Back Up Camera helps you see what's behind you on the Uconnect® touchscreen when you shift into reverse. Gridlines assist you while maneuvering into parking spaces or narrow areas.
FULL-SPEED FORWARD COLLISION WARNING
Available Full-Speed Forward Collision Warning will transmit audible warnings, visual proximity warnings and brake the vehicle if necessary.
YOU CAN NEVER BE TOO PREPARED
Sometimes things happen without even a warning. The Dodge Challenger is finely crafted to help keep you and your passengers safe in any situation.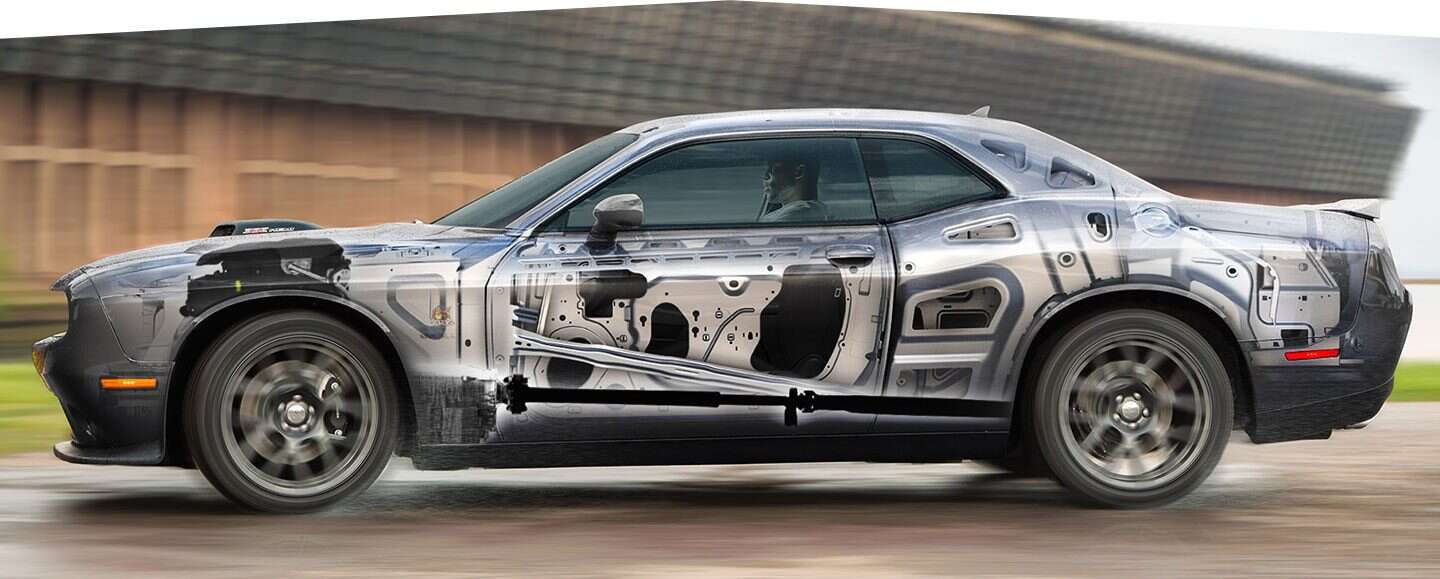 CRUMPLE ZONES
Specially designed front and rear crumple zones help absorb impact energy and redirect it away from passengers to help reduce the risk of injury.
The foundation of the body is a solid structure built with high-strength steel. Substantial roof strength and steel safety frame construction help protect the passenger compartment.
Advanced multistage driver and front passenger airbags, supplemental front and rear side-curtain airbags and front seat-mounted side airbags are all standard.
AVAILABLE RAIN-SENSING WINDSHIELD WIPERS
Rain-sensing windshield wipers detect moisture on your windshield and will activate automatically.
Rain Brake Support removes water from brake pads by applying a small amount of pressure to the caliper. It engages when the windshield wipers are activated.
ACTIVE FRONT HEAD RESTRAINTS
Active front head restraints help reduce the chance of injury to the driver and front passenger in certain types of rear-end impacts.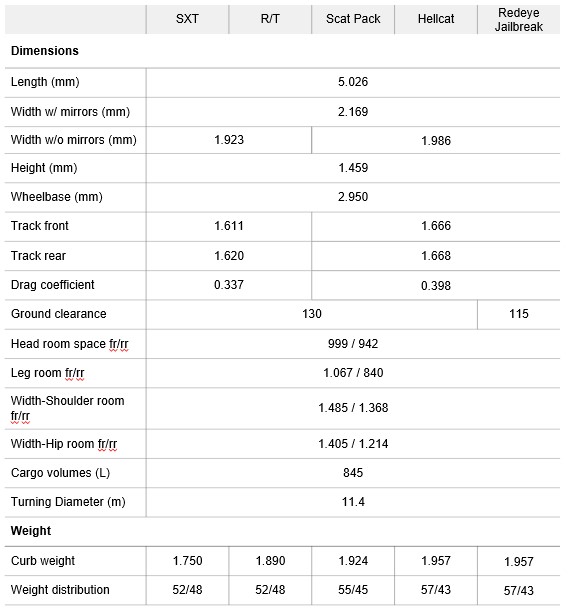 SXT RWD
3.6L HEMI® V8 Engine / 305 hp
8.4-inch touchscreen display Uconnect 4 with NAV
Rear Wheel Drive
Heated steering wheel
Front Seats heated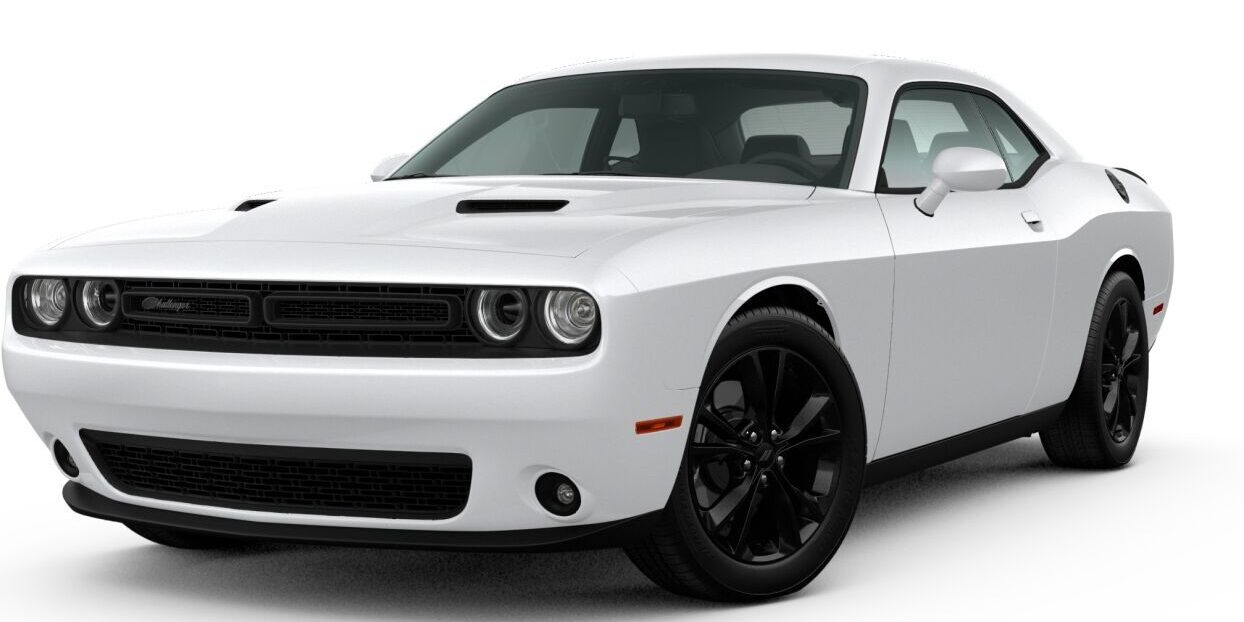 SXT AWD
3.6L HEMI® V8 Engine / 305 hp
All Wheel Drive
8.4-inch touchscreen display Uconnect 4 with NAV
Blacktop Package
Heated steering wheel
Front Seats heated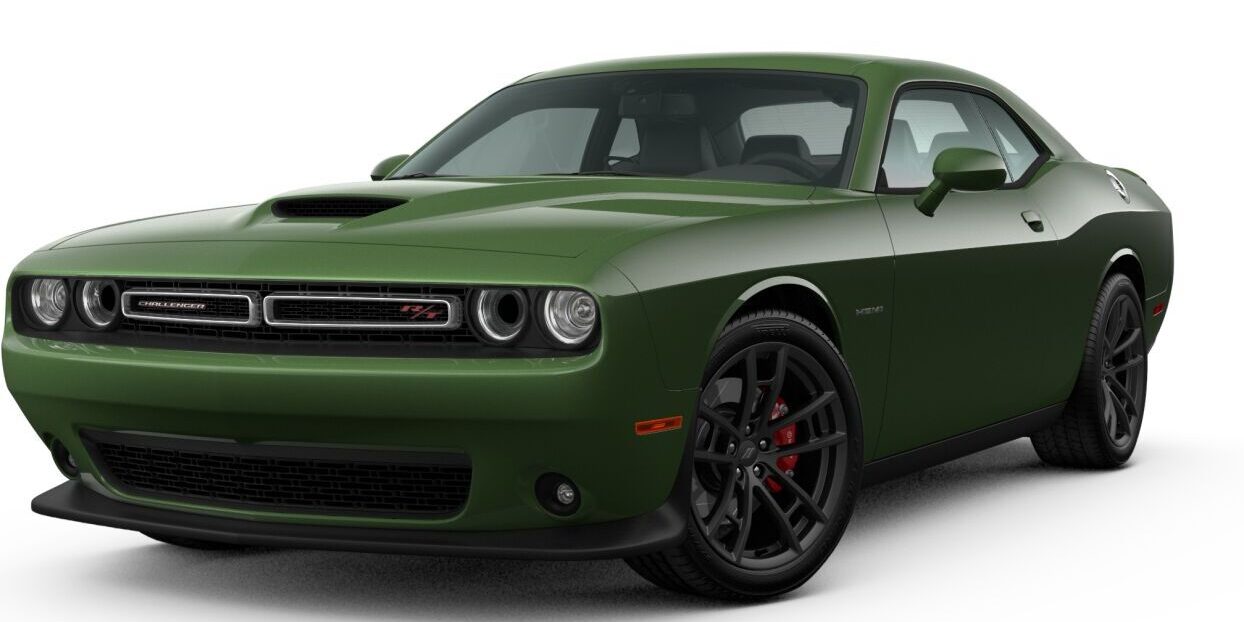 R/T
5.7L HEMI® V8 Engine / 375 hp
Red Brembo® brake calipers
Harman Kardon® 18 speakers
Forward collision warning
Adaptive speed control
Steering wheel mounted shift control
Heated steering wheel
Heated and ventilated front seats
R/T SHAKER
5.7L HEMI® V8 Engine / 375 hp
Red Brembo® brake calipers
Harman Kardon® 18 speakers
Forward collision warning
Adaptive speed control
Steering wheel mounted shift control
Heated steering wheel
Heated and ventilated front seats
Shaker air intake
Rear black spoiler
White face instrument cluster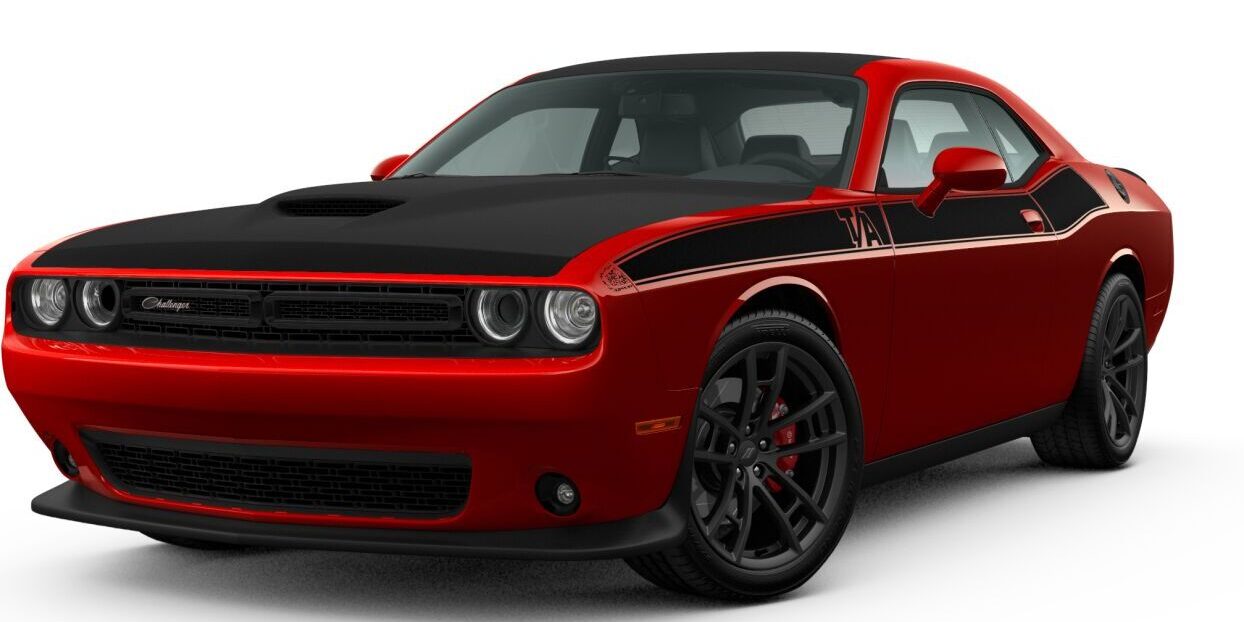 R/T T/A
5.7L HEMI® V8 Engine / 375 hp
Red Brembo® brake calipers
Harman Kardon® 18 speakers
Forward collision warning
Adaptive speed control
Steering wheel mounted shift control
Heated steering wheel
Heated and ventilated front seats
High performance suspension
Black satin painted hood
T/A decals
Nappa/Alcatara seats with T/A graphic
White face instrument cluster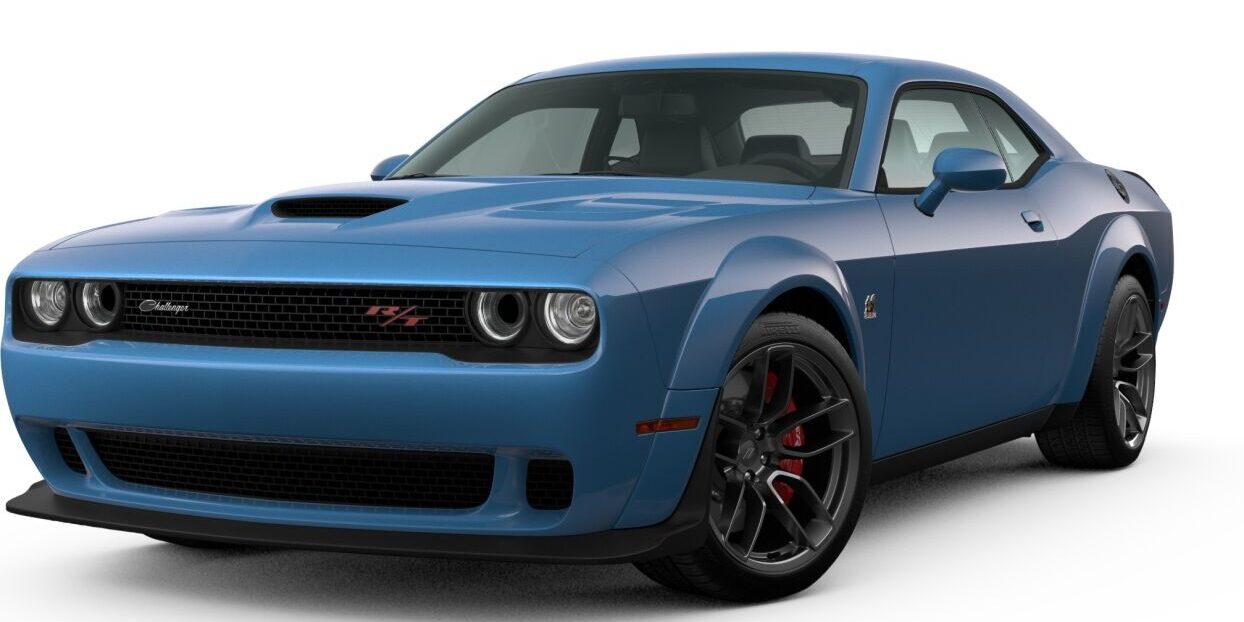 SCAT PACK
6.4L HEMI® V8 Engine / 485 hp
Widebody package with fender flares
Red Brembo® brake calipers
Harman Kardon® 18 speakers
Forward collision warning
Adaptive speed control
Steering wheel mounted shift control
Heated steering wheel
Heated and ventilated front seats
High performance suspension
Suede headliner
Real carbon fiber interior accents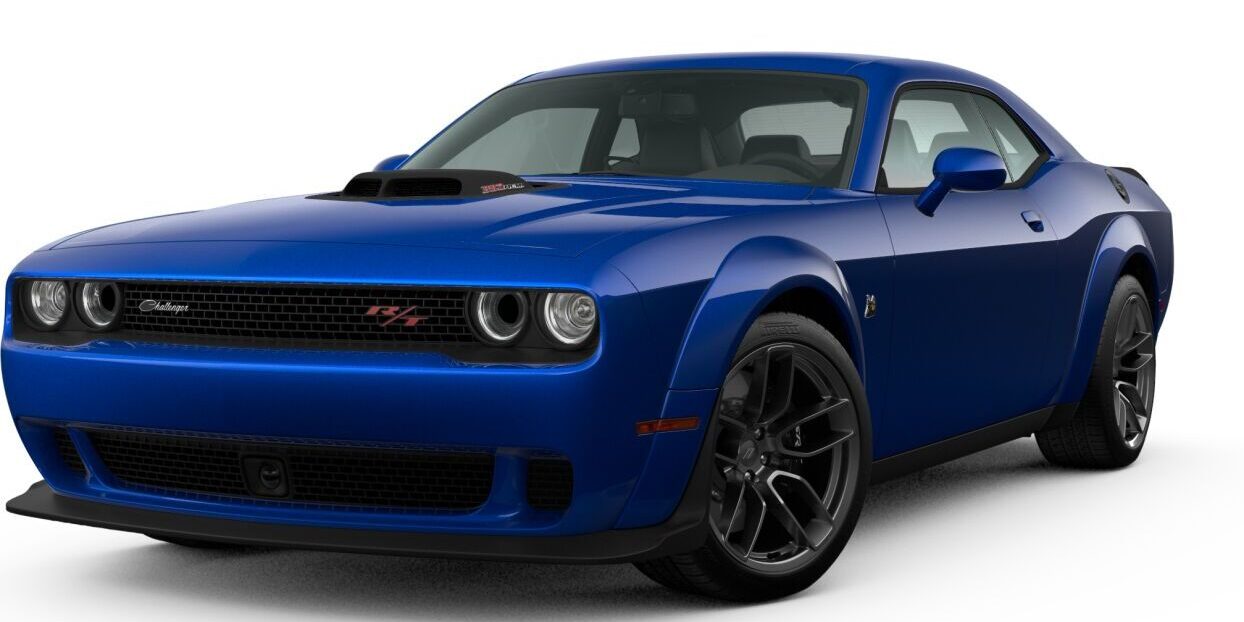 SCAT PACK SHAKER
6.4L HEMI® V8 Engine / 485 hp
Widebody package with fender flares
Red Brembo® brake calipers
Harman Kardon® 18 speakers
Forward collision warning
Adaptive speed control
Steering wheel mounted shift control
Heated steering wheel
Heated and ventilated front seats
High performance suspension
Suede headliner
Real carbon fiber interior accents
Shaker air intake
Rear black spoiler
White face instrument cluster
SCAT PACK HEMI ORANGE
6.4L HEMI® V8 Engine / 495 hp
Widebody package with fender flares
Orange Brembo® brake calipers
Harman Kardon® 18 speakers
Forward collision warning
Adaptive speed control
Steering wheel mounted shift control
Heated steering wheel
Heated and ventilated front seats
High performance suspension
Suede headliner
Real carbon fiber interior accents
Orange interior stitch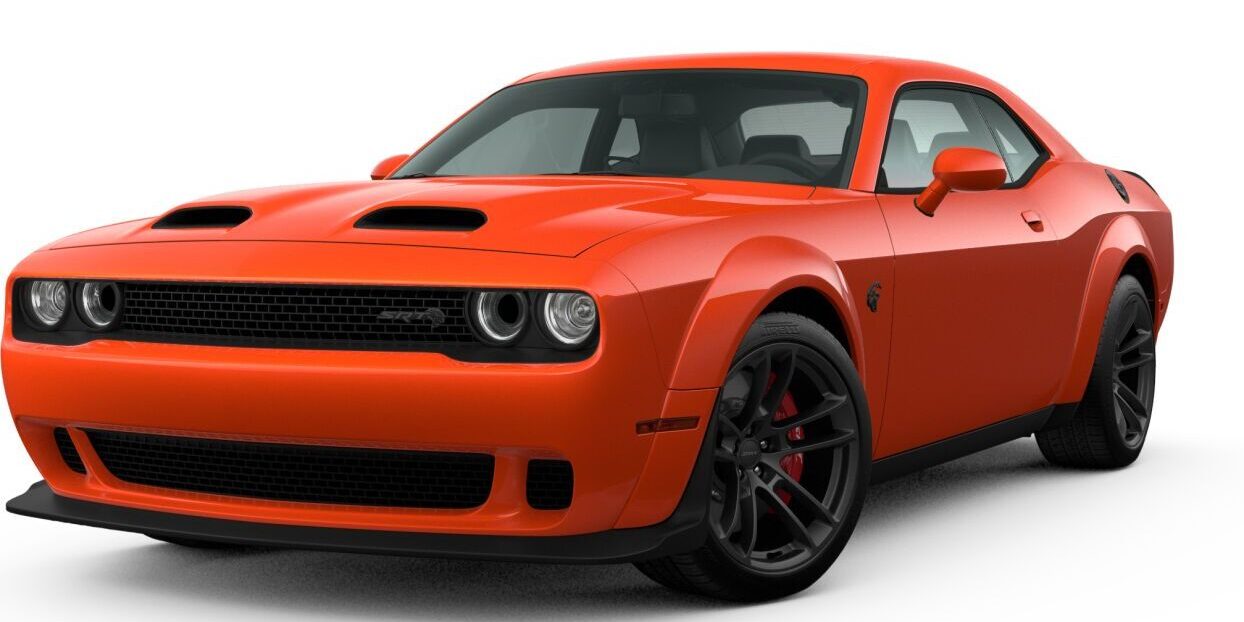 SRT® HELLCAT
Supercharged HO 6.2L HEMI SRT® V8 Engine with 717 hp
Widebody package with fender flares
Red Brembo® brake calipers
Harman Kardon® 18 speakers
Steering wheel mounted shift control
Heated steering wheel
Heated and ventilated front seats
High performance suspension
Suede headliner
Real carbon fiber interior accents
Launch control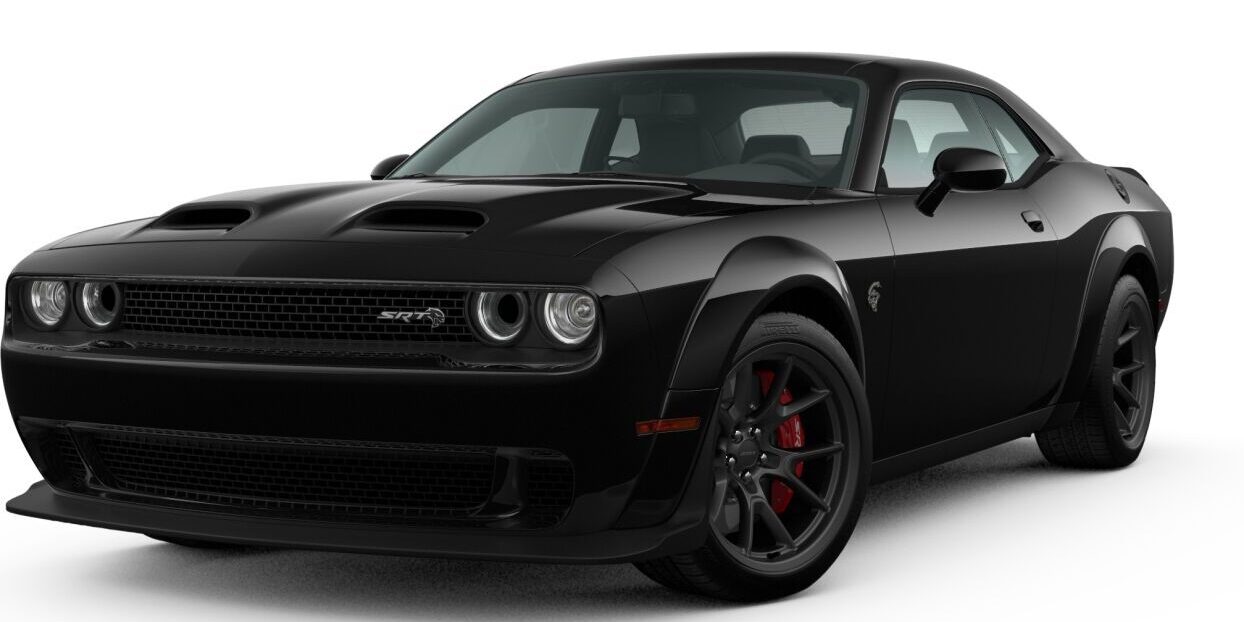 SRT® REDEYE
Supercharged 6.2L HEMI® SRT V8 Engine High Output
Engine power: 797 hp / 594 kW
Engine torque: 959 Nm
Widebody package with fender flares
Red Brembo® brake calipers
Harman Kardon® 18 speakers
Steering wheel mounted shift control
Heated steering wheel
Heated and ventilated front seats
High performance suspension
Suede headliner
Real carbon fiber interior accents
Launch control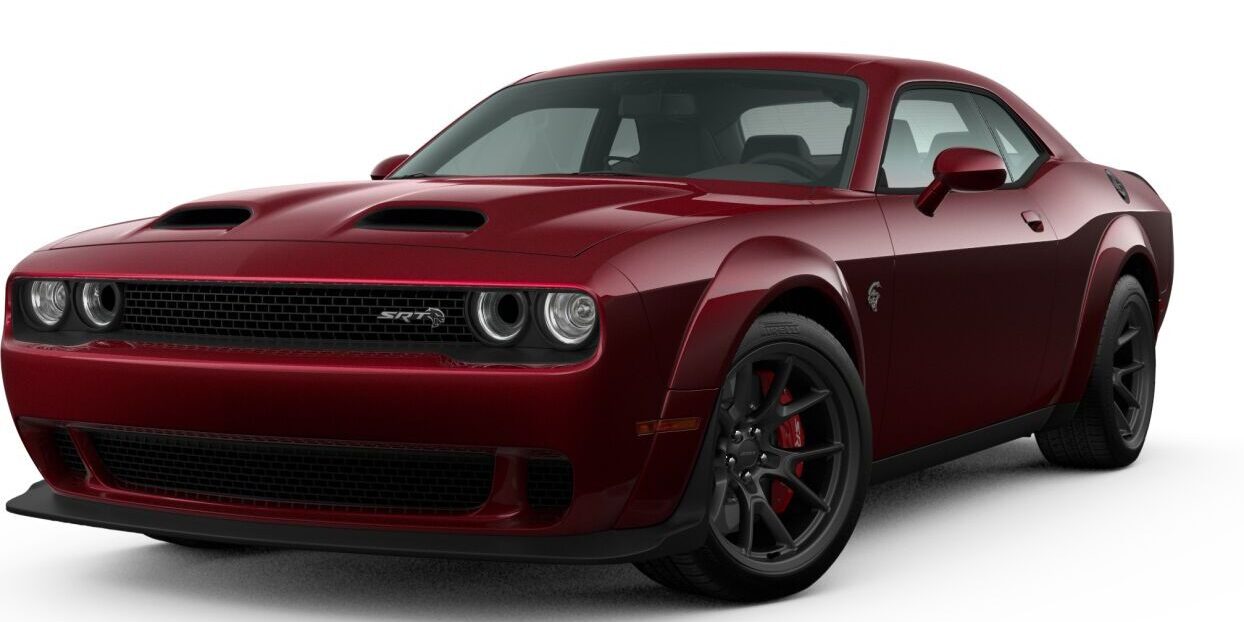 SRT® JAILBREAK
Supercharged 6.2L HEMI® SRT V8 Engine High Output
Engine power: 807 hp / 602 kW
Engine torque: 959 Nm
Widebody package with fender flares
Red Brembo® brake calipers
Harman Kardon® 18 speakers
Steering wheel mounted shift control
Heated steering wheel
Heated and ventilated front seats
High performance suspension
Suede headliner
Real carbon fiber interior accents
Launch control